Allen Klein offered up a few tips on how to start 2021 as a guest writer for fellow Mango author Debra Eckerling's blog The D*E*B Method, read Allen's tips here!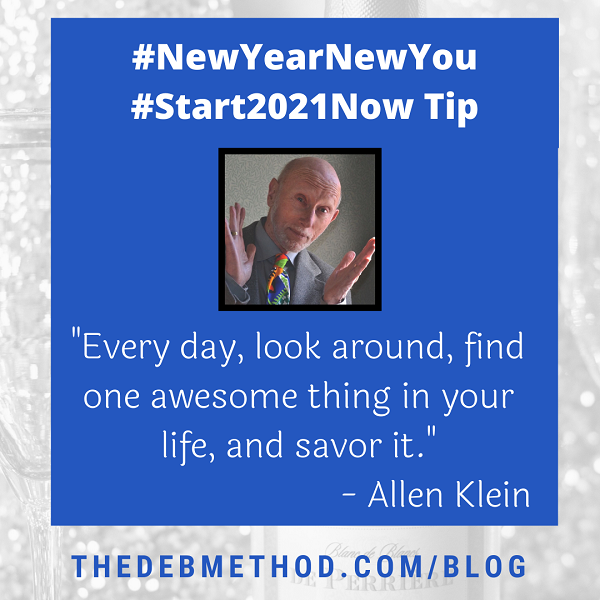 Today's #NewYearNewYou #Start2021Now Tip comes from Ambassador of Light Allen Klein, an award-winning speaker, best-selling author, and TEDx-presenter. Allen shows people how use humor and positivity to deal with changes, challenges, and not-so-funny stuff. I asked Allen to share his wins, goals, and motto, along with his tip to #Start2021Now
Biggest Win in 2020
That Jack Canfield, the Chicken Soup for the Soul guy, wrote the foreword for my new book, The Awe Factor.
3 Big Goals for 2021
To be able to travel again
To be whole, healed and healthy
To get The Awe Factor on the NYTimes, and other, bestseller lists
Motto for 2021
The Light of God Surrounds Me
Allen Klein's Tip to #Start2021Now
Every day, look around, find one awesome thing in your life, and savor it.
* * *
What's your best #start2021ow #NewYearNewYou Tip? Please share in the comments.
* * *
#GoalChatLive on Humor
Allen Klein was my guest over the summer on #GoalChatLive. Read the recap and watch the video.
---
A Gentle Guide for Growing through Grief
Work through the depression of grief and loss with resilience: Losing a loved one is never easy. Allen Klein knows how it feels—just like you, he's lost many loved ones in his life. Inspired by Klein's experience with the loss of his wife, Embracing Life after Loss will help you to recover from grief and loss—just like Klein did.
---
A Roadmap for Setting, Planning and Achieving Your Goals
Start with a plan. One of the biggest reasons goals fail is that we often don't put enough thought into what we really want before diving in. Your Goal Guide by Debra Eckerling starts with that first, crucial step: figuring out your goals and putting a plan in place. As a professional writer, communications specialist, and project catalyst with more than 20 years of experience, Eckerling is prepared to help you achieve success.