Your Goal Guide author Debra Eckerling invited fellow Mango author Bridgitte Jackson-Buckley to share her New Year's tips and goals on her blog post The D*E*B Method.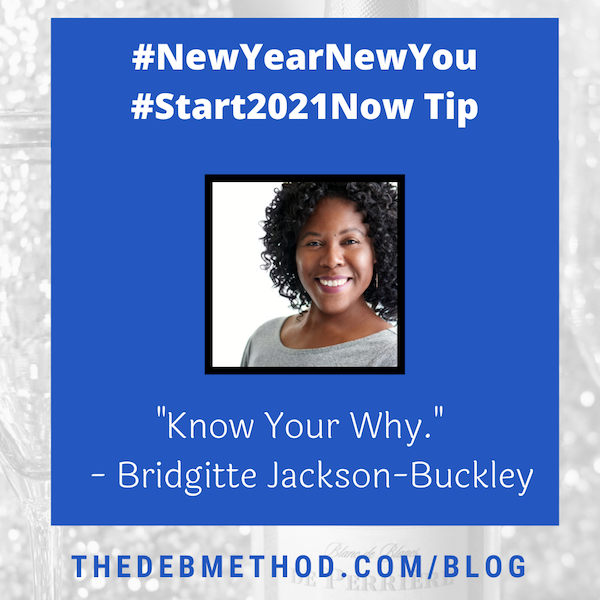 Today's #NewYearNewYou #Start2021Now Tip comes from author Bridgitte Jackson-Buckley, the author of The Gift of Crisis. She lives in Los Angeles and is currently in the process of opening Little Visioneers, a bookstore specializing in books authored by women.
I asked Bridgitte to share her wins, goals, and motto, along with her tip to #Start2021Now
Biggest Win in 2020
My biggest win in 2020 was the decision to move forward with my long-term love affair with books and open a bookstore.
3 Big Goals for 2021
Open the physical location of the Little Visioneers Bookshop.
Trust (and enjoy) the process of learning something new – as in running a bookstore!
Sell books. Lots of them!
Motto for 2021
Little visions are the small beginnings from which great things can come.
Bridgitte Jackson-Buckley's Tip to #Start2021Now
Know your why. Be clear on the why behind your vision – why you're doing what you're doing.
* * *
What's your why? Please share in the comments.
* * *
Happy #Start2021Now New Year
Bridgitte Jackson-Buckley was one of guests for the #DEBcember 1st Virtual New Years Party.
Read the recap and watch the video.
---
A Roadmap for Setting, Planning and Achieving Your Goals
Start with a plan. One of the biggest reasons goals fail is that we often don't put enough thought into what we really want before diving in. Your Goal Guide by Debra Eckerling starts with that first, crucial step: figuring out your goals and putting a plan in place. As a professional writer, communications specialist, and project catalyst with more than 20 years of experience, Eckerling is prepared to help you achieve success.