Marlena Fiol, author of Nothing Bad Between Us, published the latest installation of her "Choosing Compassion Over fear" series- this time with featuring Jennifer O'Brien.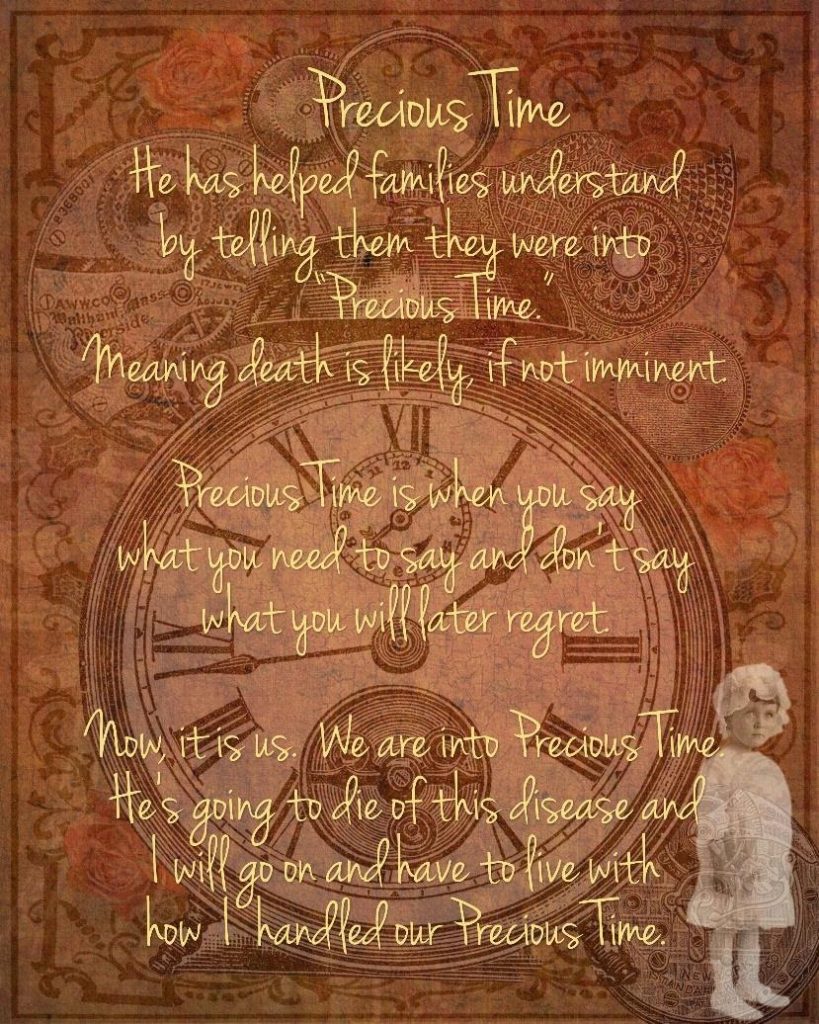 Choosing Compassion Over Fear:What Would Bob Say?
featuring Jennifer O'Brien
As part of our ongoing series, Choosing Compassion Over Fear, I am featuring some of our most cherished friends and colleagues to discover how they have navigated the landscape of doubt, insecurity, tragedy, and fear to move toward becoming their truest selves. Today, we are honored to bring you Jennifer O'Brien, author of The Hospice Doctor's Widow: A Journal. *****
When I do readings from my book, The Hospice Doctor's Widow: A Journal, I frequently read the page above. After, people often comment that they were surprised to note that the emphasized word in the term, Precious Time, is the first one. That is how my late husband Bob Lehmberg, a palliative care and hospice physician, always said it and it wasn't just his Texas twang. Some evenings, sitting at our kitchen table, he would say in his soft, soothing voice, "I told the patient and her family they are into Precious Time."
A type of time, a distinct period of life, Precious Time comes at the end. It is a gift to recognize that you are into Precious Time with a loved one. Another three short sentences Bob would frequently put together as a patient's end of life approached were, "I have seen death thousands of times; it is peaceful. The patient is going to be fine. It's the family you worry about." In other words, Precious Time is when the loved ones have an opportunity for reflection, being fully present in their good-byes, and preparing for their survivorship.*****
Bob would help patients understand the personalization of end-of-life choices by telling them about his own parents. "My dad wanted only to be kept comfortable. My mother wanted every life-extending measure. We honored both of their wishes because the right end-of-life choices for a person are their own."
The only right answers in treatment decision and end-of-life preference questions are your own. At the times during Bob's illness when he was faced with difficult decisions as to whether or not to try yet another chemotherapy I would think to myself, "Ugh, not sure I would try another one," but I would say to him, "That is a difficult decision. I support you in whatever choice you make and remember, as you always tell patients, a choice is not permanent you can change your mind later." It wasn't my choice, it was his. Someday, if/when it is my choice and if there is someone in my life, I hope he will support me in my treatment and end-of-life preferences as Bob did with his parents and as I did with Bob.
All of the above leads to another frequently heard Bobism, "We only have one chance to get this right for the patient and their loved ones." That is, there are no do-overs in end of life. The surviving loved ones remember the actual death forever. We remember the days our children and grandchildren were born and we remember the days our loved ones died. As well, we often remember the days leading up to the death of a loved one.
Preventing all regret may be impossible but having lost numerous loved ones starting when I was 18 years old, I will attest that there are indeed highly preventable regrets. Most preventable after-death regrets are so by having open conversations about end-of-life preferences when everyone is relatively healthy, so that you have a baseline for when the conversation becomes essential because of illness, injury or advanced age.
After reading my book, a widower bought twelve copies for his close friends who were still in couple relationships. He wrote to me and explained that the page above, Precious Time, was what led him to give the books to his friends. He detailed, "Most of them are all pretty healthy but we are in our 70s and 80s, we are into Precious Time just by our age alone."
Below are some tools to help facilitate conversations and decisions about end of life.
Five Wishes – a pamphlet that includes complete approach to discussing and documenting your care and comfort choices. It serves to: stimulate meaningful conversations, connect families, and communicate with healthcare providers. You can access it at fivewishes.org
Mideo Card– a video record of your advance directives and eol wishes that will serve as clear, legal advance directives. Learn more at mideocard.com
The Death Deck – a fun card game for exploring end-of-life preferences, thoughts and ideas. Check it out at thedeathdeck.com
If none of these resources appeal to you, search the internet for others or talk with your physician and attorney to begin and finalize your advance directives and care planning. One last Bobism, as faculty at an academic medical center he taught medical students, residents and fellows. He would counter any of their procrastination tendencies by saying, "It's going to be hard to get finished, if you don't get started." Conversations about end-of-life preferences are NOT easy; they are emotional, include contingencies for unthinkable situations and feel complex and large. More often, they are a series of difficult conversations rather than just one. While these conversations and decisions are not easy, they make something much harder – the death of a loved one – easier by allowing the focus to be on loving reflection and comfort rather than consternation and regret. Get started. Make a date with your loved one(s), to start the conversation. Talk about end of life so that when the time comes, it will be filled with love.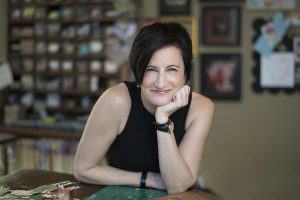 About Jennifer
Jennifer O'Brien lives in Little Rock, Arkansas, where she is an artist and advocate for dialogue about end of life. Her book, The Hospice Doctor's Widow: A Journal, is a personal exploration of both. Jennifer began journaling and creating the collages and tableaus during her husband's illness as a form of self-care, and her book was born of this work. Jennifer is no stranger to the mortality of loved ones nor to the world of healthcare. Prior to the death of her husband, Bob Lehmberg, her brother died when she was eighteen and her mother died when she was thirty-seven. For more than thirty years, Jennifer has been a consultant to physicians and served as CEO for two large medical practices.
Find Jennifer on Social Media:
https://www.etaliapress.com/authors#/jennifer-obrien/ (Website)
https://www.hospicedrswidow.com/ (Book Website)
https://www.instagram.com/hospicedoctorswidow/ (Instagram)
https://twitter.com/DrsWidow (Twitter)
https://www.linkedin.com/in/jennifer-a-o-brien-msod-a3b9491/ (LinkedIn)
https://www.facebook.com/jennifer.a.obrien.37 (Facebook)
Jennifer's Book:
The Hospice Doctor's Widow: A Journal
---
A Mennonite Missionary's Daughter Finds Healing in Her Brokenness
This story differs from similar accounts of childhood domination or abuse because it tells the story of the author's seemingly paradoxical responses to the powerful forces in my life, but doesn't leave it at that. It sheds light on the social and religious dynamics underlying these responses, giving readers insights into and understanding of her otherwise incomprehensible choices, as she found my way back into loving relationships with her parents and the Mennonite community.