Marlena Fiol, author of Nothing Bad Between Us, has started a writing series called "Choosing Compassion Over Fear". Read the first blog in the series here!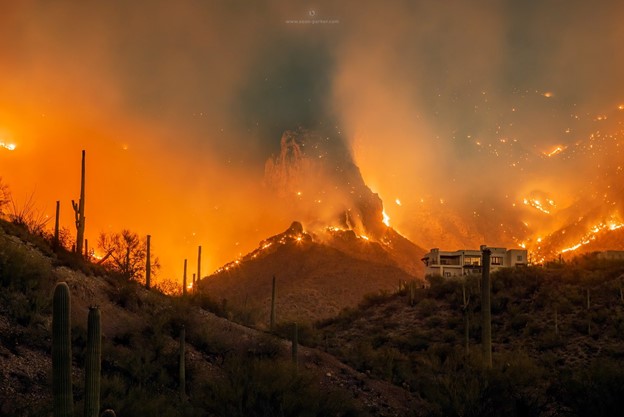 Fires earlier this year near our home in Tucson
Confronted by our current challenges, do I choose to shut down in fear and anger, or will I reach out with kindness and compassion?
We all have an equal capacity to harm or to heal.
It is my choice. It is your choice.
Portland Riots
Starting in May 2020, nightly demonstrations over the police killing of George Floyd have been held in the city of Portland, Oregon. Similar protests of occurred in other US cities. By July, many of the daily Portland protests had drawn more than 1,000 participants.
The police are trying to block the protestors. And protestors are fighting back with firebombs, mortars, rocks, and other items.
Force begets more force.
COVID19
A year that started out pretty normal — with packed sports arenas, busy airports and lots of political campaigning — quickly became anything but normal.
In late February, there were just a few dozen known cases of Covid19 in the United States, most of them linked to travel. But by summer, the virus had ripped through every state, infecting more people than the combined populations of Louisiana and Wyoming.
To date, more than 6.5 million Americans have contracted Covid19, with over 196,000 U.S. deaths attributed to the virus.
At the beginning, it was easy to shrug the virus off as a problem of crowded metropolitan areas, and initially big cities were hit hardest. But on a per capita basis, many of the places with the most cases have been small and mid-sized towns. As an example, in the relatively unpopulated area of Yuma County, AZ, about one of every 17 residents has been infected with the virus.
No one is spared.
Downward-Spiraling Economy
We just experienced the worst decline in U.S. GDP ever recorded. According to the Commerce Department, the United States saw a nearly 33% drop in GDP last quarter compared with the second quarter of 2019, the largest annualized contraction on record.
The economy shed a record 22.2 million jobs in March and April after large swaths of the U.S. were shut down to curb the spread of Covid-19, according a Labor Department survey. Other data suggest layoffs might have topped 40 million.
Our unemployment rate is still higher than at any point in modern history — including the rate at the apex of the Great Recession.
It affects all of us.
Fires
The west coast of the U.S. is in flames. In a Twitter post, Washington Governor Jay Inslee reported a fire chief as saying he hadn't seen a fire explode like this one in his 33 years of service.
In California, fires across the state have scorched more than 2.5 million acres this year alone.
And in my own state of Oregon, nearly 50 active wildfires have consumed more than 470,000 acres in the past week.
"This could be the greatest loss of human lives and property due to wildfire in our state's history," Governor Kate Brown said in a news conference on Wednesday, September 9.
Heart-breaking.
Fear or Compassion?
Relentless waves of punishment keep hurtling toward us.
In the words of Dr. Dawna Markova, one of the participants in our series on Choosing Compassion Over Fear, "anxiety swirls around in our minds like discarded newspapers with headlines that tell us to remain on indefinite alert."
Confronted by our current challenges, do I choose to shut down in fear and anger, or will I reach out with kindness and compassion? We all have an equal capacity to harm or to heal.
It is our choice.
In preparation for World Kindness Day, November 13, my team is pulling together a group of authors, activists, and community leaders to participate in an online series dedicated to helping us further discover compassion within our truest selves. Whether the focus is public service, personal growth, or interpersonal connection, our goal is to provide a platform for a diverse group of content creators to explore how, together, we can raise our voices for positive change.
---
A Mennonite Missionary's Daughter Finds Healing in Her Brokenness
This story differs from similar accounts of childhood domination or abuse because it tells the story of the author's seemingly paradoxical responses to the powerful forces in my life, but doesn't leave it at that. It sheds light on the social and religious dynamics underlying these responses, giving readers insights into and understanding of her otherwise incomprehensible choices, as she found my way back into loving relationships with her parents and the Mennonite community.