Marlena Fiol, author of Nothing Bad Between Us, has just uploaded the next blog post from her "Choosing Compassion Over Fear" series. This post features authors Jodie Geddes & Tom DeWolf, authors of The Little Book of Racial Healing.
featuring Jodie Geddes & Tom DeWolf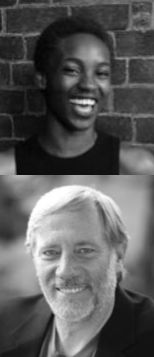 As part of our ongoing series, Choosing Compassion Over Fear, I am featuring some of our most cherished friends and colleagues to discover how they have navigated the landscape of doubt, insecurity, tragedy, and fear to move toward becoming their truest selves. Today, we are honored to present a very special excerpt from the book The Little Book of Racial Healing: Coming to the Table for Truth-Telling, Liberation & Transformation by Jodie Geddes & Tom DeWolf. *****
In these days of national and global challenges that are testing us to our core, we all hope for healing. The healing of our nation and our healing as individuals. Such healing requires an understanding of the woundedness we are experiencing and an understanding of trauma and its impact on us individually and collectively: physically, mentally, and spiritually.
We began to write the chapter on trauma awareness and resilience for The Little Book of Racial Healing two days after seventeen people were shot and killed by a young man firing an AR-15 semi-automatic rifle at Marjory Stoneman Douglas High School in Parkland, Florida.
School shootings. Police shootings of unarmed black people. Terrorist attacks. A rise in white supremacist groups. Domestic violence. Deadly hurricanes and earthquakes. War. Famine. Fatal accidents. Genocide. Disease. Homelessness. And now, Covid-19.
On top of all this and embedded in the structures and systems throughout our nation, racialized trauma against black and brown bodies has been normalized through social, political, and economic systems as a tool to maintain white supremacy for centuries. It continues today.
The word "trauma" means "wound." It is different from stress, which is normal, can feel positive or negative, and, at certain levels, can lead to creativity and productivity. Too much stress results in distress, which can lead to frustration, anxiety, and disease. Traumatic stress is an emotional wound that results from experiencing a highly stressful, horrifying event over which one feels they have no control; in which one feels powerless and threatened by injury or death to oneself or others. Trauma hits us when our ability to respond to threat is overwhelmed. Trauma hits us where we are most vulnerable. Whatever order exists in our lives becomes chaos.
We may experience trauma as individuals in response to things that happen to us or situations or events in which we participate. Trauma may result from secondary or vicarious experiences, as well as dignity violations. We may experience trauma collectively, through historical, generational, and cultural events, as well as ongoing, structural/systemic forces. Trauma can result from a single event, or continuous and cumulative events.
Becoming trauma-informed is key to racial healing. We offer here the briefest of introductions, focusing on the impact of trauma on our bodies, brains, and nervous and energy systems. We draw on the STAR (Strategies for Trauma Awareness & Resilience) approach to trauma healing which connects individual and collective healing with organizational and societal well-being. Carolyn Yoder, founding director of STAR, points out that "…traumatic events and times have the potential to awaken the best of the human spirit and, indeed, the global family… At the core, [trauma healing] is spiritual work of the deepest sort, calling forth nothing less than the noblest ideals and the faith, hope, and resilience of the human spirit."
Trauma is an inevitable part of life and our brains are designed to orchestrate responses to trauma that aim to protect us and keep us safe. Rational thought is basically bypassed in times of traumatic stress to help us survive, which then impacts brain functioning and group behavior. If we don't subsequently engage in rational thought, we cannot effectively address or heal from the trauma. Unhealed trauma results in cycles of victimhood or violence that are fueled by reenactment. Current and future generations are harmed by these acting-in and acting-out behaviors, traumatizing ourselves and others.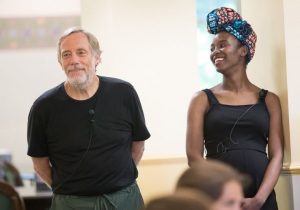 Racial healing requires a focus on the specific, historic trauma and unhealed wounds of the aftermath and legacies of slavery, which continue to inflict significant harm today. The aftermath describes political and economic structures while legacy refers to cultural ideas, beliefs, and prejudices. Legacy and aftermath work together to help maintain detrimental cultural norms that result in, and sustain, violence.
We are often operating out of the place of legacy and fail to remove the veil of white supremacy that preserves racist ideas and the silence of violence within structures, which is the aftermath. This legacy adheres to the belief that Europeans are civilized and good and, as a result, everything non-European is uncivilized and not good. And what is good should be expanded "for the good of all" and what is not good (or evil) should be contained, transformed, or extinguished. The resulting aftermath consisted of laws enabling enslavement in Europe and the Americas.
The history of the United States is a tangled web of trauma. Beginning with Columbus' 1492 arrival in the Americas, early European immigrants perpetrated genocide and forced removal on indigenous people who had lived here for centuries. In 1620, the Pilgrims landed at Plymouth and proceeded to assert control over lands and people. By the conclusion of King Philip's War in 1676, traditional indigenous life throughout New England was virtually exterminated.
Between 1619 and 1807, 12.5 million people were stolen from their homes in Africa and shipped to the so-called "New World." Almost two million perished during the horrible Middle Passage, while the surviving 10.7 million were taken in chains to North and South America, and the Caribbean. Between 300 and 400 thousand arrived in North America, in what is now the United States. By 1807, 80% of all people "who came from the Old World to the New had come from Africa, not Europe; chained in the belly of a ship, not free on its deck." In 1865, four million enslaved people were emancipated, and 600,000 soldiers lay dead as a result of the Civil War.
After 1865, a century-long period of government-sanctioned discrimination, known as Jim Crow, ensued. Formerly enslaved people were subjected to lynching; forced displacement; convict-leasing; financial insecurity; social instability; medical experimentation; voter suppression; and sundown laws. This discrimination was designed to keep people of African descent permanently disenfranchised, disadvantaged, and living in fear, and resulted in collective, cumulative, systemic, and structural trauma.
With the passage of the Civil and Voting Rights Acts in the 1960's, Jim Crow ended, but racial oppression did not. Michelle Alexander, in The New Jim Crow, demonstrates how the subsequent war on drugs disproportionately targeted black men and decimated communities of color. The U.S. criminal justice system worked to maintain racial control and disparity.
Today, white people and people of color fall on opposite ends of virtually all measurable social indicators, from infant mortality rates to poverty, unemployment, wealth, incarceration rates, education, housing, and health care. The cumulative effects of America's past are a compilation of historic traumatic wounds passed down through generations.
Traumatic wounds cause severe harm to individuals, communities, and society and can be passed down to future generations. Yet, we don't tend to talk about it much. Understanding trauma, becoming trauma-aware, and talking about trauma is fundamental to racial healing. This requires that we recognize and acknowledge any traumatic wounds we carry, the trauma others experience, and how trauma plays out in society. All this is a first step toward racial healing.
Learn more in The Little Book of Racial Healing (2019, Good Books). In addition to co-writing this book, Jodie and Tom serve as co-managers of Coming to the Table, a project of RJOY (Restorative Justice for Oakland Youth). Coming to the Table provides leadership, resources, and a supportive environment for all who wish to acknowledge and heal wounds from racism that is rooted in the United States' history of slavery.
*****
About Jodie & Tom
Thomas Norman DeWolf serves as Executive Director for Coming to the Table and is the author of Inheriting the Trade: A Northern Family Confronts Its Legacy as the Largest Slave-Trading Dynasty in U.S. History, the story of his experiences participating in the making of the Emmy-nominated documentary Traces of the Trade, in which he is featured. Tom is co-author of Gather at the Table, winner of the Phillis Wheatley Award for Best Nonfiction. The African American Jazz Caucus awarded him the 2012 Spirit of Freedom Award for Social Justice. Tom is a certified STAR Practitioner (Strategies for Trauma Awareness & Resilience). He lives in Bend, Oregon.
Jodie Geddes is the Community Organizing Coordinator at Restorative Justice for Oakland Youth (RJOY). Jodie serves as Vice President of the Board of Managers of Coming to the Table. She received her M.A in Conflict Transformation from the Center for Justice and Peacebuilding at Eastern Mennonite University, where she recently co-taught "Restorative Justice Organizing for Communities" at the Summer Peacebuilding Institute. She lives in Oakland, California.
---
A Mennonite Missionary's Daughter Finds Healing in Her Brokenness
This story differs from similar accounts of childhood domination or abuse because it tells the story of the author's seemingly paradoxical responses to the powerful forces in my life, but doesn't leave it at that. It sheds light on the social and religious dynamics underlying these responses, giving readers insights into and understanding of her otherwise incomprehensible choices, as she found my way back into loving relationships with her parents and the Mennonite community.