Here is a recap of Your Goal Guide author Debra Eckerling's latest #GoalChatLive with Andrea Hubbert, video included!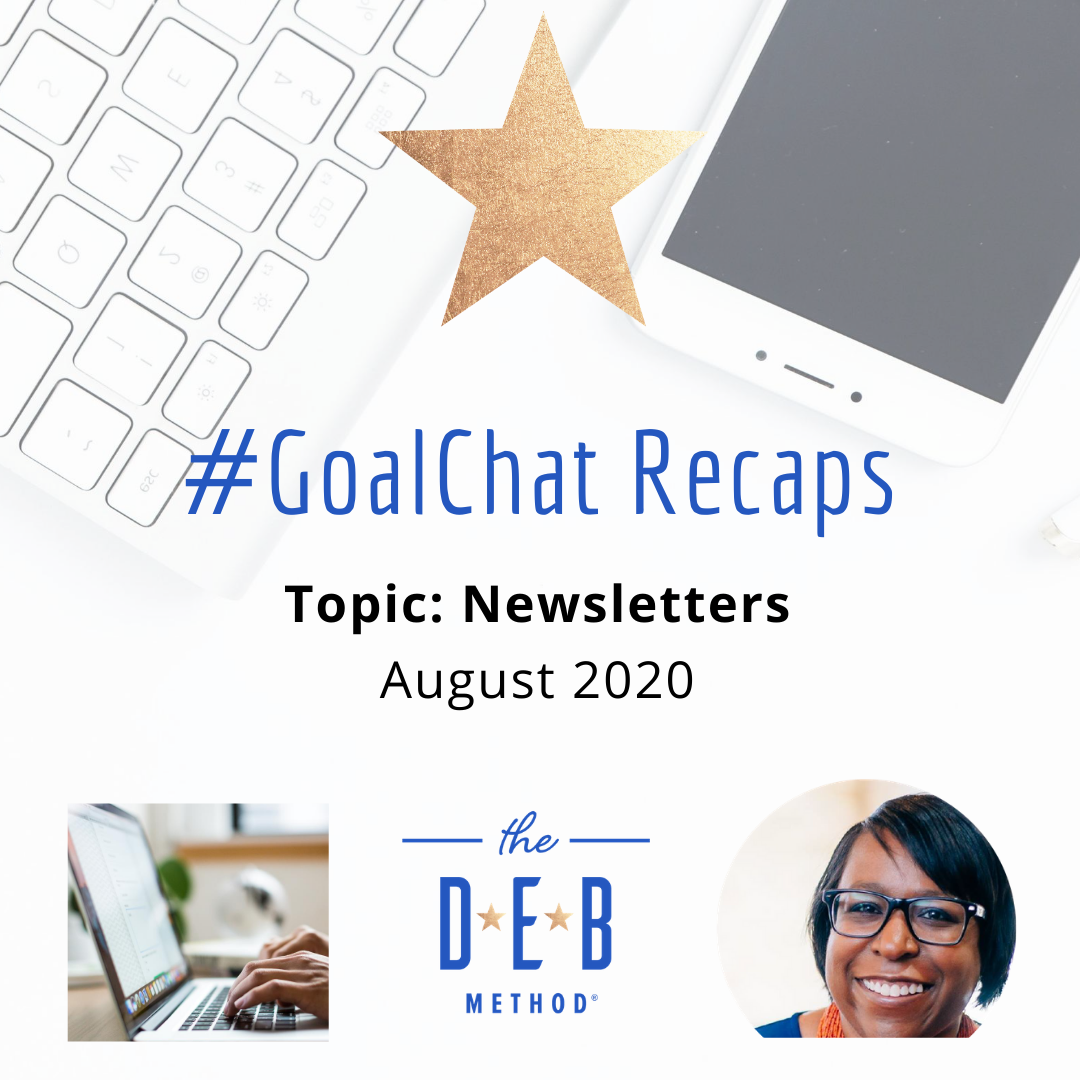 This week on #GoalChatLive, I was joined by #GoalChat regular Andrea Hubbert, cofounder of The Solopreneur Society , to talk about Newsletters. We discussed the value of Newsletters, and touched on its role in the big picture of email marketing. When figuring out what information to send to your friends, fans, clients, and prospects, remember that your newsletter is all about them.
You – and your background, expertise, and experience – are your best resource. But you still need to build your email, and any communication, with your readers in mind. What articles, links, and deals will be most helpful to them? What will keep them as subscribers, customers, and advocates?
Sunday's Twitter conversation was also filled with plenty of tips, tools, and links, from #GoalChat community on getting your newsletter together and out into the world. Consistency, professionalism, and personality were highlighted in both conversations.
Watch #GoalChatLive on Newsletters
Video: https://www.facebook.com/watch/live/?v=1394806047576337&ref=watch_permalink
Read the Twitter Moments Recap.
Bonus Goal: Newsletters
Whether or not you already have a newsletter, take a few minutes to brainstorm what would would like to create to share with your community. You can then take the best ideas and incorporate them into your newsletter … or use it as a starting point.
Final Thoughts
Most importantly, don't overthink your newsletter. Just think it through. Create something you can and will send on a regular basis. Decide what categories of information you will include. Make sure it's in your branding and voice, and you will be good to go.
Links Mentioned
Check out Your Goal Guide
Follow @AndreaSaidIt and @TheDEBMethod on social media
* * *
What is the value of newsletters? Do you have any tips and resources to recommend? Please share thoughts on newsletters in the comments or on the video.
* * *
Next Week
On next week's #GoalChat we will be talking about Newsletters. Join the Twitter chat on Sunday, August 30, at 7pm PT on Twitter. Then, on Monday, August 31, at 4pm PT, Christopher Vogler, author of The Writers Journey, will join me on Facebook Live.
---
A Roadmap for Setting, Planning and Achieving Your Goals
Start with a plan. One of the biggest reasons goals fail is that we often don't put enough thought into what we really want before diving in. Your Goal Guide by Debra Eckerling starts with that first, crucial step: figuring out your goals and putting a plan in place. As a professional writer, communications specialist, and project catalyst with more than 20 years of experience, Eckerling is prepared to help you achieve success.