Check out this blog post written by Debra Eckerling, author of Your Goal Guide, where she recaps a conversation she had with Jim Fuhs on speaking, includes a video of their chat!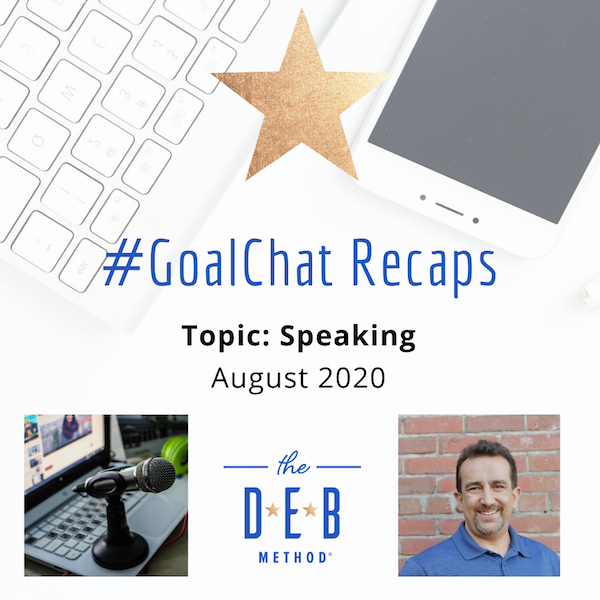 This week on #GoalChatLive, I was joined by #GoalChat regular Jim Fuhs, Fuhsion Marketing to talk about Speaking. Jim, who does marketing the "marine corp way," is a speaker, live streamer, podcaster, brand ambassador, and more. Our video is full of stories, tips, and resources for amping up your speaking chops and finding new opportunities. Sunday's Twitter conversation was also filled with advice, tools, and recommendations from Jim, me, and the #GoalChat community.
Whether or not you are currently speaking as part of your business outreach, now is the time to sharpen those skills. We're just at the beginning of online being the new normal, so work on your quick pitch, practice talking – either through an organization like Toastmasters (Jim is a huge fan!) or with friends – and do what you need to get comfortable speaking on camera. You'll be glad you did.
Watch #GoalChatLive on Speaking
---
A Roadmap for Setting, Planning and Achieving Your Goals
Start with a plan. One of the biggest reasons goals fail is that we often don't put enough thought into what we really want before diving in. Your Goal Guide by Debra Eckerling starts with that first, crucial step: figuring out your goals and putting a plan in place. As a professional writer, communications specialist, and project catalyst with more than 20 years of experience, Eckerling is prepared to help you achieve success.