Your Goal Guide author Debra Eckerling recently hosted a New Years Eve Party on December 1st, because why not, and also joined a Facebook Live with Sue-Ann Bubacz!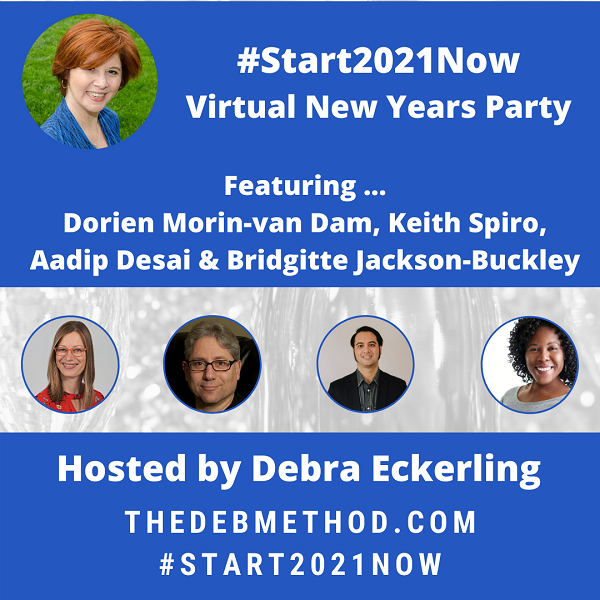 On DEBcember 1st I was joined by some awesome friends for a #Start2021Now Virtual Holiday Party. What a way to kick off the new New Year!

When I was planning this virtual party, I kept wondering: How do you have a party in the cyberworld and make it feel like an actual one? What would I normally do? Well, I would invite friends from the different facets of my life and see how they got along. Wow! What an amazing combination it turned out to be!
My guests for the #Start2021Now Facebook live:
The party kicked off with intros. Plus, each guest explained what they would bring to an actual potluck. Everyone also shared a bit about themselves to help the others learn more about them. The conversation evolved from there in the most amazing and natural way.
Watch the #Start2021Now Virtual New Years Party
Every day in December, I will post a #NewYearNewYou #Tip on @TheDEBMethod social media accounts. Today, you get four!!!
Here are tips from our Virtual New Years Party Guests to #Start2021Now
Aadip's tip: Be yourself all the time
Keith's tip: Pay attention to flexibility and balance
Bridgitte's tip: Get very clear on your why
Dorien's tip: Just get started!
Need more ways to make the most out of an early start to the new year?
Be sure to read Keith's article on #Start2021Now.
Visit Bridgitte Jackson-Buckley's Little Visioneers Bookshop.
Grab your copy of Your Goal Guide and then join the Your Goal Guide Facebook group.
---
Facebook Live with Sue-Ann Bubacz:
---
A Roadmap for Setting, Planning and Achieving Your Goals
Start with a plan. One of the biggest reasons goals fail is that we often don't put enough thought into what we really want before diving in. Your Goal Guide by Debra Eckerling starts with that first, crucial step: figuring out your goals and putting a plan in place. As a professional writer, communications specialist, and project catalyst with more than 20 years of experience, Eckerling is prepared to help you achieve success.