Debra Eckerling, author of Your Goal Guide, has posted the recap of her recent conversation with Christine Gritmon on the topic of social media, check it out!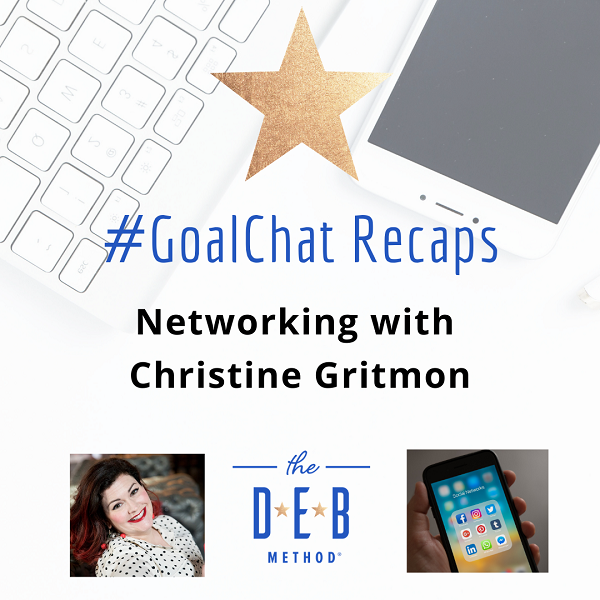 Social Media is a key part of developing your community. Therefore, it was the obvious topic choice to round out this month's theme. We had an active Sunday night #GoalChat – very meta, followed by an awesome #GoalChatLive with Christine Gritmon on Monday.
I have known Christine for years, but Monday was our first face-to-face conversation. Christine frequently drops by our Sunday #GoalChat and, as a branding and engagement expert, was the perfect choice to dive deeper into the topic of social media.
Social media is an invaluable source of connection, especially for businesses and brands. You meet new people, look for them on social media, and connect. It also gives you access to new people and opportunities, enables you to build your platform, and more.
So how do you stand out? I asked Christine. It's simple:
Identify your Community
Show Up
Leave an Impression
Add Value
Also, look at what makes you unique and be consistent in your branding across all socials – and your website. Plus, have a presence on all the main platforms, even if you are just active on your favorites. Christine shared lots of examples, along with workarounds. We had a wonderful conversation.
Watch #GoalChatLive on Social Media
Check out Sunday night's #GoalChatLive conversation on Socia Media in the Twitter Moments Recap.
Bonus Goal: Social Media
Get in the habit of commenting and replying. In the time it takes to brew your coffee, you can do some quality social media engagement.
Links
---
Check out this other blog post by Deb where she shares her February 2021 #GoalChat Topics!
---
A Roadmap for Setting, Planning and Achieving Your Goals
Start with a plan. One of the biggest reasons goals fail is that we often don't put enough thought into what we really want before diving in. Your Goal Guide by Debra Eckerling starts with that first, crucial step: figuring out your goals and putting a plan in place. As a professional writer, communications specialist, and project catalyst with more than 20 years of experience, Eckerling is prepared to help you achieve success.