Lu Ann Pannunzio (author of Tea-spiration) takes us through the process of dyeing eggs with tea for easter.
Not only does Easter mean chocolates galore but also time for decorating eggs! Growing up I always used food colouring to do so and sometimes paint. As I got older I would make a cup of tea, grab some hard boiled eggs, vibrant paint and use that liquid in my cup only as inspiration to create something fun. This year I finally decided to set the food colouring and paint aside. Instead, I used what you would usually find in a cup beside my creative sessions — tea. Have you tried making tea dyed Easter eggs before?
This way is completely natural and your hard boiled eggs will still be edible. Depending on the teas used, the taste of some eggs may alter a bit. Tea dyed Easter eggs are quite simple to do. However, they require some patience as the hard boiled eggs should be submerged in your tea dye overnight at least. The tea dye you will steep won't be as strong as food colouring. Therefore, it will take a bit longer to actually make a nice stain. With this fun experiment, my eggs were left in mugs of tea dye in the refrigerator for 24 hours. I found that worked best for the teas I used.
It is quite interesting to see what each tea dye will create on the eggs, too. Feel free to use whichever teas you have on hand that you think might be a nice colour on your Easter eggs. Here are the teas I used and their results: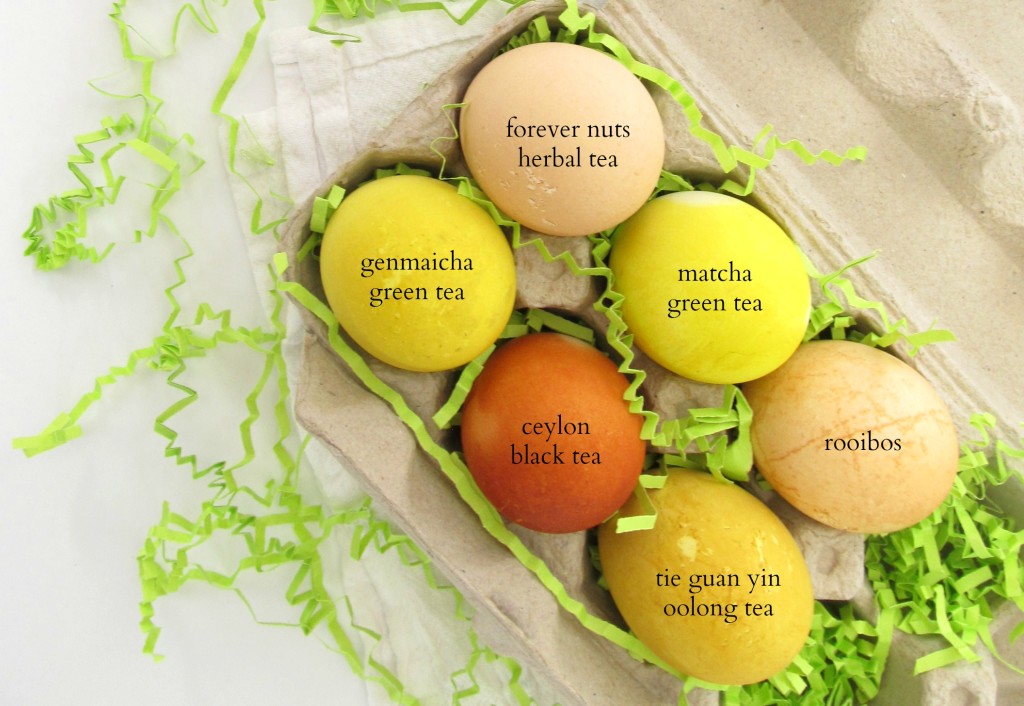 Genmaicha Green Tea – I wanted to give this tea a try as I expected a pale yellow colour on the egg. I was surprised when it came out gold! I also used this tea because I thought it would be delicious if it gave some flavour to the hard boiled egg!
Forever Nuts Herbal Tea – This herbal tea from Davids Tea is gorgeous with the beautiful pink liquor. This is because of the beetroot addition. I immediately wanted to try this one as a tea dye. I thought it would result in a pastel pink colour on the hard boiled egg and was pleased when I saw that it did!
Ceylon Black Tea – This Ceylon I used steeped a deep red liquor and I was curious as to what it would be like on the egg. I have read that usually black teas will result to a grey shade on hard boiled eggs so I didn't get my hopes up. However, I was over the moon when I saw it was bright red! I think it might be my favourite of the six.
Matcha Green Tea – I expected a vibrant green colour with this tea dyed Easter egg and was left with the a yellow shade similar to what I was thinking would happen with the genmaicha. If you're doing matcha green tea for your tea dyed Easter eggs, I recommend whisking it really well before adding the egg as you may get clumps of matcha on your eggs after the long wait time.
Tie Guan Yin Oolong Tea – As one of my most consumed teas, I really wanted to give this oolong a try. It steeps a light gold colour. To be honest, I wasn't expecting much from it on the egg but was surprised when this brownish gold colour appeared!
Rooibos – Finally, similar to the Ceylon, rooibos steeped a gorgeous deep red liquor and I couldn't wait to see what it may translate to on an egg. In the end it wasn't as vibrant as the Ceylon egg, but still provided a beautiful light pink.

Here is what you will need:
– 6 hard boiled white eggs
– 2 teaspoons (or 2 tea bags) of 6 different teas
– 6 mugs (preferably white inside so you can see the colour of the tea liquor)
– 6 tablespoons white vinegar
– boiled water
– tape and marker (for labeling the mugs with the type of tea)
– paper towel
Directions
1. In separate mugs, steep each tea bag or filter of loose leaf tea in 5 oz boiled water for 10 minutes. You will be making a tea concentrate here so that you can get the strongest colour for the tea dyed Easter eggs. It will be helpful if you label each mug with which tea was used. This way you can recall the following day when the tea dyed Easter eggs are complete. Remove the tea bags or filters and let it cool for a few minutes.
2. Mix in 1 tablespoon of white vinegar in each mug of tea dye.
3. Using a spoon, carefully lower one hard boiled white egg into each mug. Set the mugs with the soon to be tea dyed Easter eggs into the refrigerator overnight.
4. The next day, remove each egg from their mug of tea dye. Gently pat dry with a paper towel. Don't wipe or you may remove some of the tea dye off the eggs.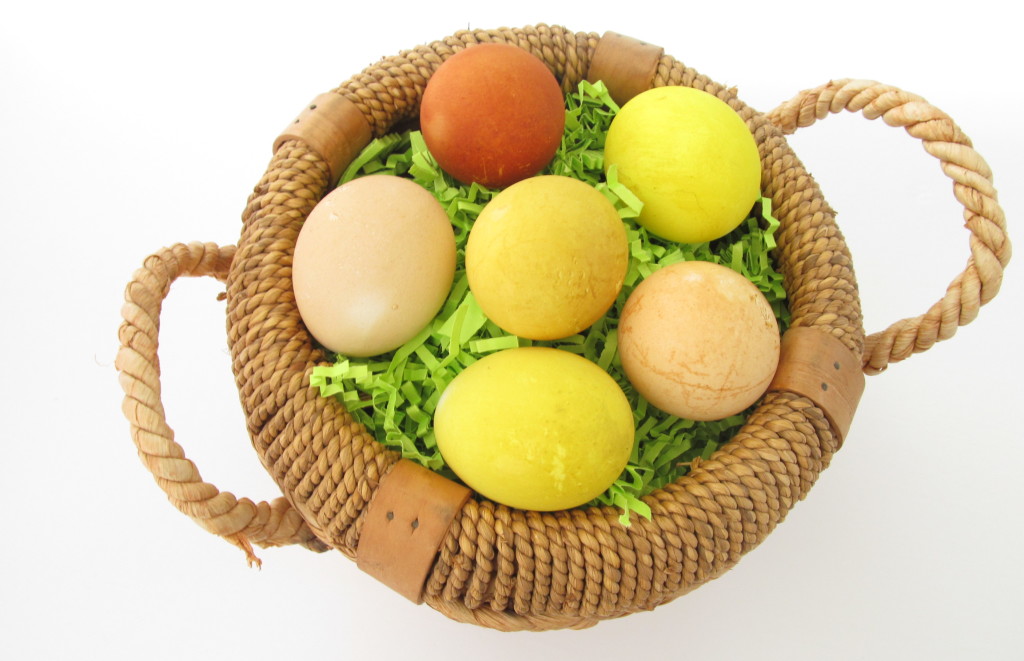 5. Admire your beautiful tea dyed Easter eggs! Use the eggs to decorate around the house (ie: place in a basket like the image above) or serve the eggs and see if any tea altered the taste.
Happy Easter!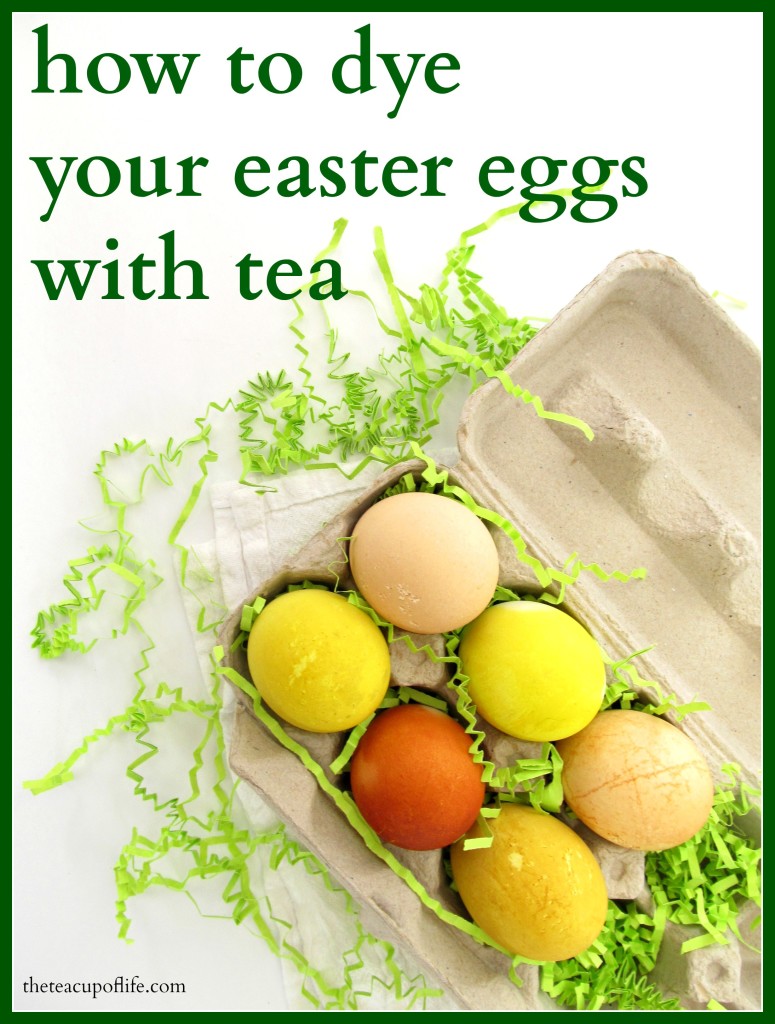 ---
Inspirational Words for Tea Lovers
The tea lovers book: Tea-spiration aims to create a quiet movement where one can experience devotions, comfort, inspiration and the simple joys of life. Tea drinkers know that tea, the wonderful drink, can help them slow down and savor life's moments.
Each page of Tea-spiration is filled with feelings and moments (big or small) that tea enhances; simple joys that not everyone may notice or take the time to savor. Sometimes all you really need is a cup, water and some leaves to create your own wonderful cup of tea experience.