Becca Anderson, author of Friendship Isn't A Big Thing It's A Million Little Things, has written a new blog post on the power of expressing yourself through personal style.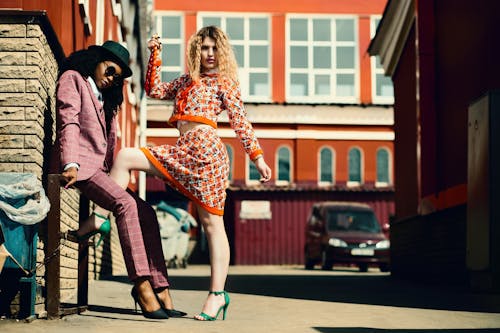 The essence of your style is all you. It sounds obvious, even silly. But how often do we flip through a magazine or look at others on the street and long to have some other woman's wardrobe, body, or charisma? The best make it look effortless, but we know it rarely is. The great thing about true style is that it stands on its own, and you don't have to judge or envy anyone else to get it because it's already yours. Every outfit you admire, every color that lights up your face, every pair of shoes you flip for—they all reflect you at your best, ready to take on the world.
My best friend claims that whenever she's going through a major transformation—being fired or quitting a job, ending a relationship, or starting a move—she buys one thing that seems outlandish for the circumstances. Something she may feel she can't quite afford, but that she absolutely loves and will treasure for a long time. She calls it her I'll-never-[work/ be happy/fall in love]-again dress, and considers it a kind of reverse psychology good luck charm. The thinking goes that if she's all washed up, at least she has this one last beautiful thing to remember as she wallows in her misery. Of course, she's not one to wallow. And I think the true purpose is to force herself back into the game by embracing beauty in her own way and on her own terms. It cheers her right up to tote around a new bag or get compliments on an inspired new 'do. And let me tell you, it works for her…she's never been down in the dumps for long (and even if she was, she sure wouldn't look it).
After conducting an informal poll of the most stylish women I know, I've put together the 1-2-3 rules. (And of course, the best of the best know how to outdo themselves by breaking every rule.)
Simplicity is the key—especially on a budget. Clean lines, strong colors, no fuss.
Always feel comfortable in your clothes—if you love the way it looks on the hanger but feel funny every time you put it on, it goes right into the clothes swap pile.
Quality over quantity—for the price of a lot of cheap stuff that wears out in one season, buy one great thing you'll have forever.
---
The Art of Female Friendship
Celebrate the bonds you've built with the wonderful women in your life. The bond shared among girlfriends is like no other. Whether the friendship is decades old or just beginning, we share a unique relationship with these women, a connection wholly different even from what we share with husbands or boyfriends.