Nothing Bad Between us author Marlena Fiol announces third season of her podcast- Becoming Who You Truly Are, read the full announcement here.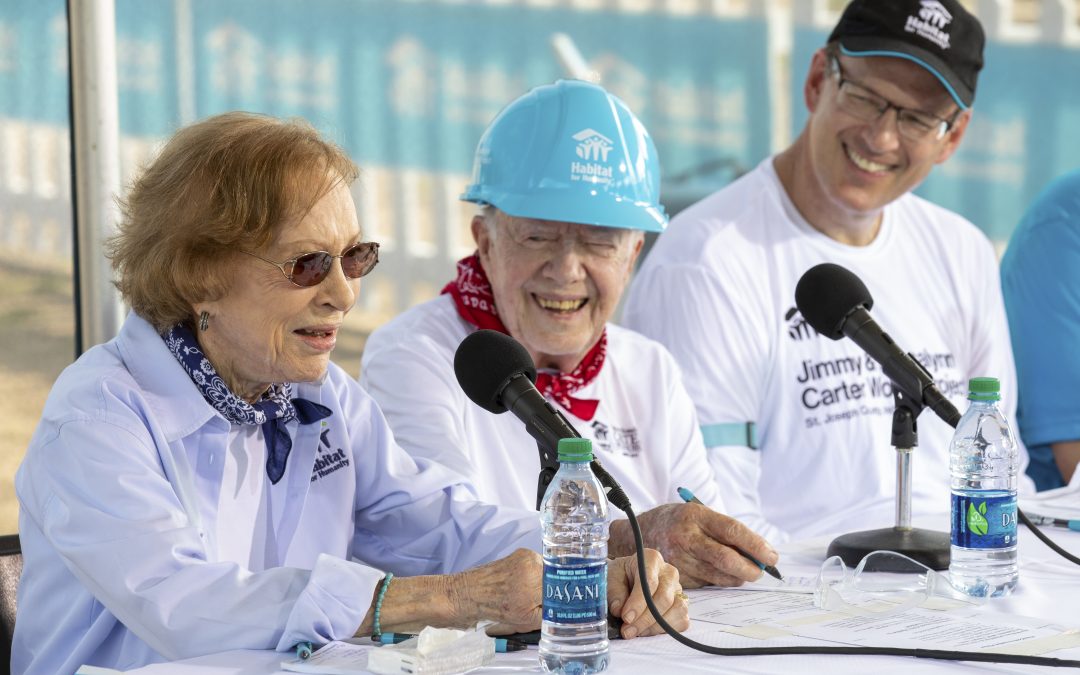 President Jimmy and Mrs. Carter with Jonathan Reckford, CEO of Habitat for Humanity (my first guest this season)
Are you committed to bringing forth the best in yourself? Have you invested significant time and money exploring who you truly are and what's possible for you? If so, I think you'll find that my upcoming podcast season is for you. I'm thrilled to announce that the podcast Becoming Who You Truly Are is about to launch its third season, which asks, How Can Acts of Service Be a Path to Finding Your Truest Self? The first episode of the new season will air on August 24th.
In this season, we'll explore what it means to serve, and take a look at some of the impressive outcomes our guests have achieved. But we'll also identify the darker underbelly of service, which can sometimes lead to divisiveness and even oppression, despite servers' best intentions to do good.
We'll look at service from three perspectives: The first of these examines the diverse paths that can lead to meaningful contributions, in a series titled Paths to a Life of Service. We'll learn about the unique personal journeys of some of the great leaders in today's service arena, including Shawn Askinosie, whom Oprah has named "One of 15 Guys Who Are Saving the World," and Jonathan Reckford, the CEO of Habitat for Humanity International, among others.
The second perspective is what most would consider a traditional service model, in a series titled Peace and Justice for All, featuring – among others – the Mennonite Central Committee (referred to as MCC), which by the way, celebrates its 100th anniversary this year. MCC sponsored my parents' medical missionary work in Paraguay. So I know a bit about the MCC missionary world, which features prominently in my new book Nothing Bad Between Us, and also in the historical novel I'm currently writing. We'll talk about extraordinary achievements, but we'll also take on some of the common misconceptions about who missionaries are and what they do, delving into a more complicated truth about the dreams, fears and mistakes that sometimes surround their drive to make the world a better place.
The final perspective hits really close to home for all of us, in a series titled Living and Dying Well. It explores the art of living and dying well, a challenging but also an immensely rewarding topic. We'll hear from renowned advocates for palliative care, Dr. Ira Byock and also Dr. LaVera Crawley, as well as other experts, about the remarkable end-of-life possibilities available to each of us.
Please join us, beginning August 24th, every other week, as our guests honestly and vulnerably share their experiences and their wisdom about what service means to them, in all of its complexities, and how it can lead us to our best and truest selves.
---
A Mennonite Missionary's Daughter Finds Healing in Her Brokenness
This story differs from similar accounts of childhood domination or abuse because it tells the story of the author's seemingly paradoxical responses to the powerful forces in my life, but doesn't leave it at that. It sheds light on the social and religious dynamics underlying these responses, giving readers insights into and understanding of her otherwise incomprehensible choices, as she found my way back into loving relationships with her parents and the Mennonite community.