Marlena Fiol, author of Nothing Bad Between Us, has posted a new interview to her website- this time she interviewed Gopar Tapkida from the Mennonite Central Committee, MCC.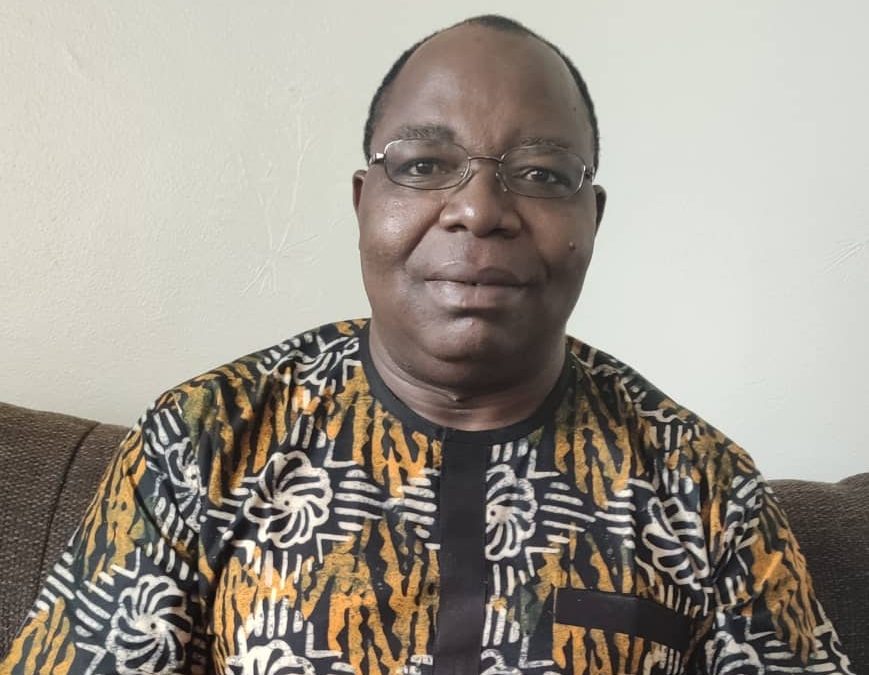 I'm pleased to introduce today's guest, Gopar Tapkida, from the Mennonite Central Committee, MCC. But while Ann Graber Hershberger, our last guest, was at HQ in the US, Gopar is MCC's Representative in Zimbabwe, Africa. Gopar has led interfaith dialogues between Muslims and Christians in Nigeria, Chad and Ethiopia.
As a quick review for our listeners, MCC is a global nonprofit organization, focused on providing relief, development and peace in over 50 countries worldwide.
The following is a taste of my conversation with Gopar:
Q: Would you begin by telling us a bit about your childhood?
Gopar: My father was an African traditionalist. My mother was a Catholic. And it was during the civil war in Nigeria that I grew up. And I remember very clearly my parents telling us not to pick up anything that looked like a ball in the field because our enemies, in this case were those who are fighting on the other side. That they were flying planes and throwing bombs to kill us. And so I grew up with all that kind of fear.
Q: Would you describe for our listeners the underlying interdependency of economic development and peacebuilding? How are they related to one another?
Gopar: As the saying goes, without development there is no peace and without peace there is no development. But if you ask communities that have experienced significant impact of violence, they will tell you that they choose peace over development. In fact, in some of the communities, they would tell us, "Do not give us development. Just give us peace. Because if you give us development without peace, we will destroy the development."
Q: Can you say a bit about how you build trust in this context, in multifaith peace work that is so sensitive and so ripe with conflict and long history of conflict? How do you build trust?
Gopar: Very, very difficult and I will say that it is risky at the beginning. We just have to take some risk. But there are two words that are very important. Sincerity and transparency.
When asked if there's one last thing he'd like our listeners to hear, Gopar says, "Peacebuilding work is a lonely journey. But…actually, somebody is looking at you and down the line, it's going to bring about the greatest change that you never anticipated. So never give up. Keep going on."
About Gopar:
Gopar currently serves with his wife Monica as MCC Representatives in Zimbabwe. Before then, her served as the regional peace advisor for MCC Central and West Africa. He has also worked for several years with MCC in a variety of roles. Gopar has taught severally at the Africa Peacebuilding Institute Zambia and South Africa; Great Lakes Peacebuilding Institute in Burundi; Great Lakes Institute Uganda; Jos ECWA Theological Seminary, Nigeria; LAWNA Theological Seminary, Nigeria; Summer Peacebuilding Institute Eastern Mennonite University, USA; and a host of others. Gopar has also done training in other places including camps and workshops in Canada, interfaith dialogues between Muslims and Christians in Nigeria, Chad and Ethiopia. He received a Doctorate Degree on transformative approach to interfaith peacebuilding. Masters in Peacebuilding and Conflict Transformation. Bachelors in Pastoral Theology, and Diploma in Public Administration. Gopar is an excellent public speaker.
---
A Mennonite Missionary's Daughter Finds Healing in Her Brokenness
This story differs from similar accounts of childhood domination or abuse because it tells the story of the author's seemingly paradoxical responses to the powerful forces in my life, but doesn't leave it at that. It sheds light on the social and religious dynamics underlying these responses, giving readers insights into and understanding of her otherwise incomprehensible choices, as she found my way back into loving relationships with her parents and the Mennonite community.