Debra Eckerling, author of Your Goal Guide, has posted a recap of her recent #GoalChatLive conversation with Daree Allen, check it out- video included!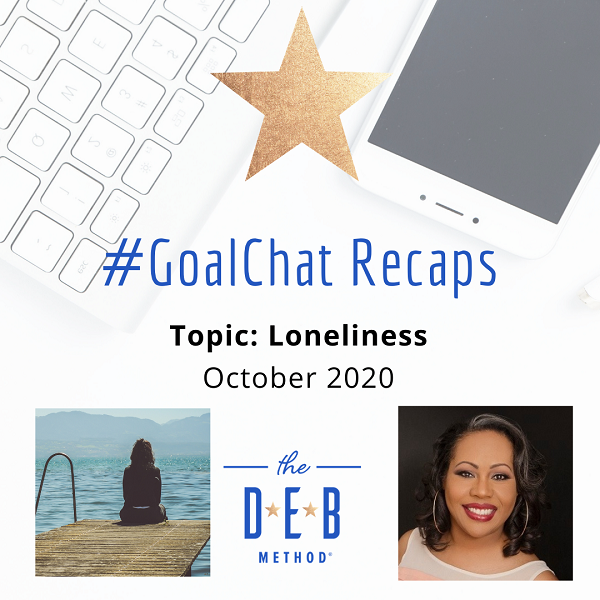 This week on #GoalChatLive Daree Allen joined me to talk about loneliness. Even before all this COVID isolation, loneliness was a challenge many people faced … and obviously still do.On Sunday night's #GoalChat and Monday's #GoalChatLive we talked about how our lives changed – or didn't – since isolation, as well as how to "handle" loneliness. Our chat on Sunday was very active. And, per usual, the community not only shared their experience and challenges, but also offered support to each other on the chat.
Daree, who wrote about the epidemic of isolation pre-COVID, had plenty to say on the subject, as well. One key to dealing with loneliness, Daree says, is to diversify. Diversify your social life. Find new ways to meet people and meet people in different ways: meetups, Zooms, phone calls. Connect with others and stay connected. And diversify your activities: learn, create, clean, plan. Mix things up and explore new interests.
Watch #GoalChatLive on Loneliness
Bonus Goal #1: Loneliness
Make a list of 10 to 20 people to call to check up on. Post your list in your office, and then every few days, give someone on there a call. It will make your friend's day … and will make your day better too!
Bonus Goal #2: Loneliness
Send birthday cards. Write letters. Surprise someone by taking the time to write to them and send something in the mail.
Final Thoughts
When you are feeling lonely, think of what you can learn or do to get out of your head. Make plans for life post-COVID. Or, think of something you can do to help someone else. When you give, you also receive. And it makes everyone feel better!
---
A Roadmap for Setting, Planning and Achieving Your Goals
Start with a plan. One of the biggest reasons goals fail is that we often don't put enough thought into what we really want before diving in. Your Goal Guide by Debra Eckerling starts with that first, crucial step: figuring out your goals and putting a plan in place. As a professional writer, communications specialist, and project catalyst with more than 20 years of experience, Eckerling is prepared to help you achieve success.