Debra Eckerling, author of Your Goal Guide, has uploaded a recap of her recent #GoalChat with Russell Nohelty. Check it out, video included!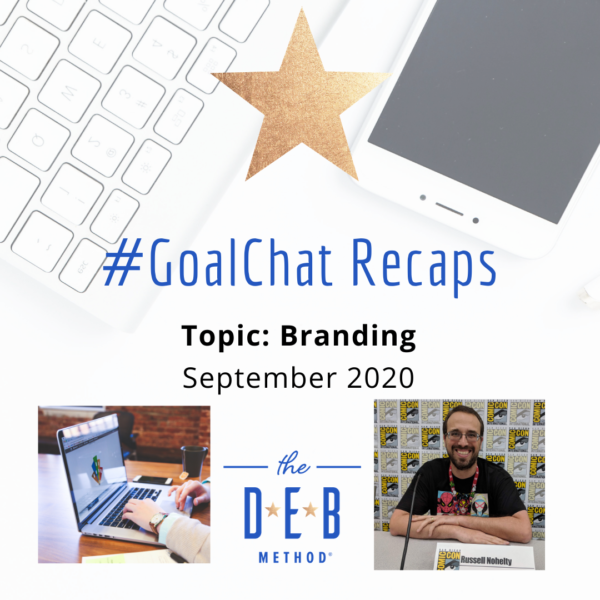 On #GoalChatLive this week Russell Nohelty, Wannabe Press, and I had a great conversation about Branding. Russell started the conversation with a branding exercise. Think of someone you love and what three words describe them. That is their brand. The same applies to you. Who you are, what you do, your mission and values, and how you present yourself are all part of your brand. And, while your branding may evolve over time, the core of who you are and what you believe in, should shine through.
Both the Sunday night #GoalChat conversation and Monday's #GoalChatLive delved into the core reasoning behind branding, the value of consistency, and ways to reboot. However, Sunday's chat spent more time on branding assets and Monday's conversation with Russell had some wonderful examples and analogies. Like a good partnership between brands within the same niche, #GoalChat and #GoalChatLive complimented each other!
Watch #GoalChatLive on Branding
Bonus Goal: Branding
Choose three words that describe you … and your brand. Then, ask three friends what three words they think describe your brand. This is a good way to assess your brand, validate how you present yourself, and get clued -in to your value to others.
Final Thoughts
Your brand is you. On a regular basis review your activities, content, and mission, to make sure you are consistently presenting what you want out into the world! You may need to tone some things down and amp other things up. Self-awareness – and communication with your audience – will give you clues to any necessary adjustments.
* * *
Why is branding so important? What tips do you have for starting or rebooting a brand? Please share thoughts on branding in the comments or on the video.
* * *
Next Week
On next week's #GoalChat we will be talking about Collaboration. Join the Twitter chat on Sunday, September 13, at 7pm PT on Twitter. Then, on Monday, September 14, at 4pm PT, Mike Allton of Agorapulse will join me on Facebook Live.
---
A Roadmap for Setting, Planning and Achieving Your Goals
Start with a plan. One of the biggest reasons goals fail is that we often don't put enough thought into what we really want before diving in. Your Goal Guide by Debra Eckerling starts with that first, crucial step: figuring out your goals and putting a plan in place. As a professional writer, communications specialist, and project catalyst with more than 20 years of experience, Eckerling is prepared to help you achieve success.