Debra Eckerling, author of Your Goal Guide, has posted a recap of her recent #GoalChat with Laura Michelle Powers, take a look- video included!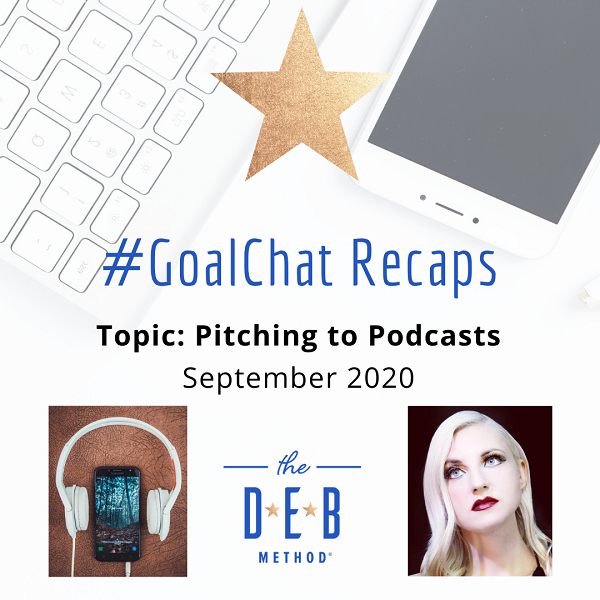 This week on #GoalChatLive I spoke with author and podcaster Laura Michelle Powers about Pitching to Podcasts. Laura talked about what it takes to pitch a podcast, as well as offered tips for starting a podcast of your own.More than any other medium, podcasts connect you – whether you are an expert, entrepreneur, author, or all of the above – with others. And by being on podcasts, you get introduced to another's audience and vice versa. It's the ultimate win win.
On Sunday night's #GoalChat and Monday's #GoalChatLive we talked about why you should be pitching podcasts, where to find podcasts to pitch, what elements go into a pitch, and so much more. Among her other advice, Laura shared what goes into a media kit (photo, bio, contact information, social media links, and where you've been featured before), as well as how most important part of a pitch is your unique hook. Compose creative, relevant subject lines. You need to give the podcaster a reason to keep reading your pitch
Laura even dove into the basics of what you need to create a podcast (Zoom, headphones and mic, content host), since podcast swaps are another way to get airtime and find new audiences.
Watch #GoalChatLive on Pitching to Podcasts
Bonus Goal: Pitching to Podcasts
Make a list of 20 ideas for pitching. This can be podcasts, pitches, or a combination of both. The idea is to think outside your comfort zone, and generate some fun and unique ideas to pitch.
Final Thoughts
The key to good collaboration is communication. Make a plan, divide the responsibilities, and have everything in writing. If there's an issue, reach out with the best intentions and go from there.
Links
Listen to Laura's interview with me.
Watch my interview with Liz H Kelly on Pitching.
---
A Roadmap for Setting, Planning and Achieving Your Goals
Start with a plan. One of the biggest reasons goals fail is that we often don't put enough thought into what we really want before diving in. Your Goal Guide by Debra Eckerling starts with that first, crucial step: figuring out your goals and putting a plan in place. As a professional writer, communications specialist, and project catalyst with more than 20 years of experience, Eckerling is prepared to help you achieve success.