Debra Eckerling, author of Your Goal Guide, has posted her most recent #GoalChat replay. This week she spoke with Eddie Louise and Nita Sweeney, check it out- video included.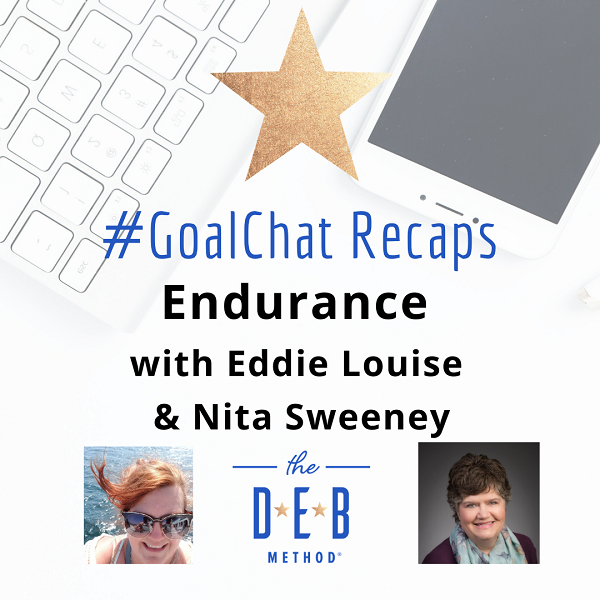 This week's #GoalChatLive was an exercise in #Endurance. While my guest Eddie Louise was having trouble getting into Streamyard, I called on my Mango pal Nita Sweeney to join me last minute. The result: a wonderful 3-way conversation on endurance, NaNoWriMo, and more.On Sunday night's #GoalChat, as well as #GoalChatLive, we relayed how we had been enduring in "safe at home" mode. We also shared tips for thriving in close quarters and dove into the bevvy of upcoming November challenges. November is National Novel Writing Month (#NaNoWriMo), National Non-Fiction Writing Month (#NaNonFiWriMo, created by Nina Amir), National Podcast Post Month (#NaPodPoMo created by Jennifer Navarrete), and National Blog Posting Month (#NaBloPoMo).
We highlighted NaNoWriMo for a good portion of the #GoalChatLive. Nita and Eddie both have remarkable National Novel Writing Month success stories. The whole conversation was full of fun, camaraderie, and encouragement to take action. These, by the way, are all good reasons to participate in one of those November monthly challenges.
Watch #GoalChatLive on Endurance
Quick Tips for Better Endurance
Eddie: Develop a regular practice
Nita: Use an app that blocks social media
Deb: Give yourself breaks
Bonus Goals: Endurance
Nita: Give yourself a winnable goal
Eddie: Find an entry – a writing-prompt activity, like Tarot cards – to get into your writing.
Deb: Share your wins by Tweeting to @TheDEBMethod and using the #GoalChat and #GoalTopia Hashtags. Check out  my wins every day in October
---
A Roadmap for Setting, Planning and Achieving Your Goals
Start with a plan. One of the biggest reasons goals fail is that we often don't put enough thought into what we really want before diving in. Your Goal Guide by Debra Eckerling starts with that first, crucial step: figuring out your goals and putting a plan in place. As a professional writer, communications specialist, and project catalyst with more than 20 years of experience, Eckerling is prepared to help you achieve success.
---
How Running With My Dog Brought Me Back From the Brink (Running Depression and Anxiety Therapy, Bipolar)
It's never too late to chase your dreams. Before she discovered running, Nita Sweeney was 49-years-old, chronically depressed, occasionally manic, and unable to jog for more than 60 seconds at a time. Using exercise, Nita discovered an inner strength she didn't know she possessed, and with the help of her canine companion, she found herself on the way to completing her first marathon. In her memoir, Sweeney shares how she overcame emotional and physical challenges to finish the race and come back from the brink.