Debra Eckerling, author of Your Goal Guide, has posted her latest #GoalChats with media strategist Sarah Clarke, learn more here- video included!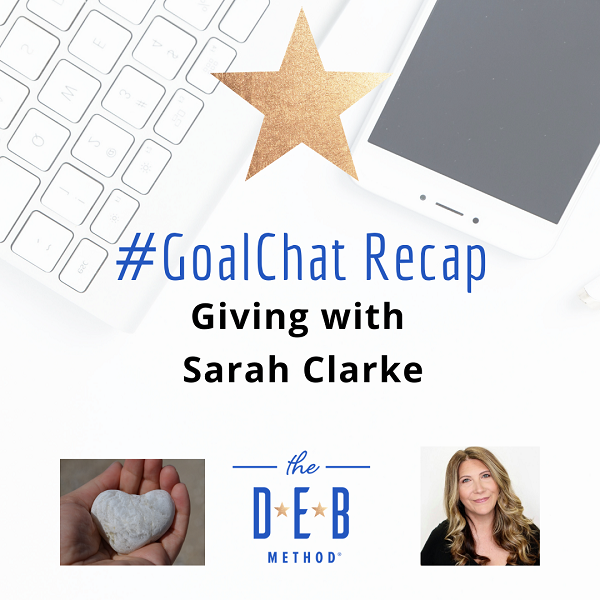 We are approaching #GivingTuesday, so what better time to talk about Giving! Media Strategist Sarah Clarke, Dufferin Media , joined me to discuss on #GoalChatLive!
Created in 2012, #GivingTuesday has a simple purpose: it's a day to encourage people to do good – to give, collaborate, and celebrate generosity. As we approach this year's holiday season, needs are greater … not just to receive, but to give. Their mission is "to build a more just and generous world."
Sarah shared why giving is so close to her heart, and offered ideas of ways to give beyond the monetary: becoming a board member, volunteering time, helping a neighbor, writing a review for a business or charity, seeing what's needed in your community. And from a non-profit's point of view: the best way for them to receive what they need is to be direct in their communication of what that is.
And, if you are a non-profit who needs to create a campaign or fundraiser to bring attention – and donations – to your cause, treat it the same way you would any business endeavor, Sarah says. Start with your goal in mind. Then, create a logo, tag line, and hashtags for your event, which could be socially distanced or virtual. Have fun, be authentic, and showcase how you help.
Watch #GoalChatLive on Giving
Bonus Goal: Giving
Look around your community and find a way you can help
Links
---
A Roadmap for Setting, Planning and Achieving Your Goals
Start with a plan. One of the biggest reasons goals fail is that we often don't put enough thought into what we really want before diving in. Your Goal Guide by Debra Eckerling starts with that first, crucial step: figuring out your goals and putting a plan in place. As a professional writer, communications specialist, and project catalyst with more than 20 years of experience, Eckerling is prepared to help you achieve success.