New Jersey Stage features news on (author of Depression Hates a Moving Target) Nita Sweeney's upcoming music video.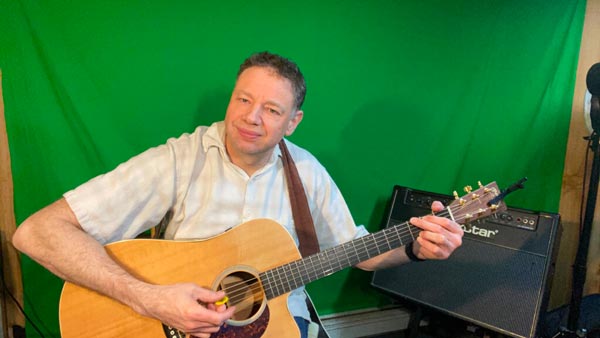 (MONTCLAIR, NJ) — Jason Didner, a Montclair based singer-songwriter has tapped into two of his passions to create a song and video he hopes will inspire people to take that hardest step – that first step out the front door – in pursuit of better mental and physical health during this pandemic and beyond.
And he had help. Jason asked for videos from people with interesting running/exercise stories and got contributions that exceeded his wildest imagination.
Barefoot Ted, a runner prominently featured in Christopher McDougall's renowned memoir, Born to Run, provided a stunning slow-motion video. Ted's style of running clips had captured Jason's imagination when they showed up in his Instagram feed over the past year.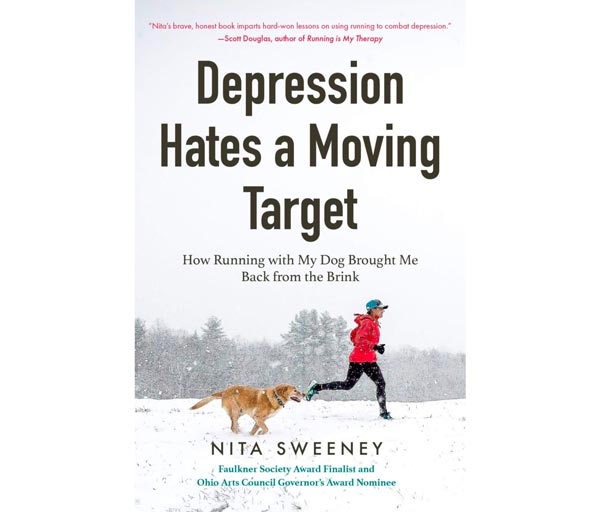 Nita Sweeney, author of her own memoir Depression Hates a Moving Target, turned in a genuinely endearing clip of herself running alongside her dog Scarlet, sharing a powerful support network of outdoor exercise and canine companionship. Nita will world-premiere the video on her web site on Friday, May 7. For the first 24 hours, nitasweeney.com will be the only outlet showing the video.
Wheelchair ultramarathoner Julia Beckley submitted a breathtaking scene of her training on a Montana highway with her mom riding horseback behind her. Friends of Jason's submitted running clips as well, showcasing diversity of race, gender, age and geography.
"Two years ago I was at a crossroads," Jason said. "My physical and mental health were under profound stress. Years of insomnia culminated in a likely anxiety attack that landed me in the emergency room in the middle of the night. I considered seeing a psychiatrist to explore the possibility of a prescription. But first, I was willing to see if exercise could bring the balance I was lacking. That experiment worked. This song is a celebration of what I've learned."
The music reflects Jason's passion for rock, especially for his primary influence on guitar, the late Edward Van Halen. "I really wanted to honor Eddie's memory with the guitar solo and worked hard for precision in the fast passages," Jason said. He allowed himself to draw inspiration from the next generation of Van Halens as well. "Hearing Eddie's son Wolfgang record every instrument plus vocals inspired me to learn drums so I could record every instrument on this latest round of songs," he added.
Jason's wife Amy, a mental health blogger, co-wrote the lyrics and codirected the video. Amy and Jason often exercise together, along with their 10-year-old daughter. Their shared routine includes walks, strength training cardio boxing and use of treadmill and exercise bikes side by side.
"Run With My Troubles" adds to an album in progress, due for release this year, which focuses primarily on coping with mental health issues, including exercise, gratitude, recognizing hard-earned progress and self-compassion.
---
How Running With My Dog Brought Me Back From the Brink (Running Depression and Anxiety Therapy, Bipolar)
It's never too late to chase your dreams. Before she discovered running, Nita Sweeney was 49-years-old, chronically depressed, occasionally manic, and unable to jog for more than 60 seconds at a time. Using exercise, Nita discovered an inner strength she didn't know she possessed, and with the help of her canine companion, she found herself on the way to completing her first marathon. In her memoir, Sweeney shares how she overcame emotional and physical challenges to finish the race and come back from the brink.