Sandy Rosenthal, author of Words Whispered in Water, has written a new blog post on the levees.
Levees.org obtains new data showing nearly two-thirds of Americans live by levees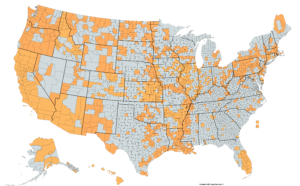 Levees.org just obtained new data showing that the number of Americans protected by levees has increased compared to a decade ago. Sixty-two percent of the American population lives in counties protected by levees. A decade ago, the percentage was 55%. Levees.org filed a request under FOIA for the data on May 12, 2019 and just received it on July 29, 2020, over fourteen months later. According to FEMA, the increase is likely due to several factors, including expansion of existing levees and construction of new levees; more people moving to locations protected by levees; and a better accounting of where flood-risk-reduction levees are located. Levees.org offered this data and its statistic results to the The Advocate. Reporters Mark Schleifstein and Jeff Adelson have done a good story. See it here.
---
Why the Levees Broke in Hurricane Katrina
It's a horror story, a mystery, and David and Goliath story all in one. In 2005, the entire world watched as a major U.S. city was nearly wiped off the map. The levees ruptured and New Orleans drowned. But while newscasters attributed the New Orleans flood to "natural catastrophes" and other types of disasters, citizen investigator Sandy Rosenthal set out to expose the true culprit and compel the media and government to tell the truth. This is her story.