Let Me Count the Ways author Becca Anderson has written a new blog post on love and marriage and everything in-between, read Becca's blog post here.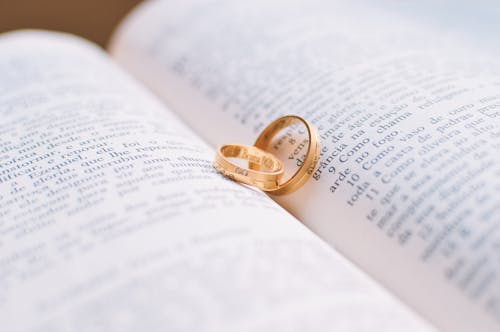 We've all heard the saying; whether we like it or not, the two do seem to go together. From rhapsodizing about the lasting joys to bitching about the equally consistent irritations, women have the corner on marriage talk. The sampling below is nowhere near everything we could have said!
The married are those who have taken the terrible risk of intimacy, and having taken it, know life without intimacy to be impossible.
—Carolyn Heilbrun, feminist author and pioneering professor at Columbia
I love being married. It's so great to find that one special person you want to annoy for the rest of your life.
—Rita Rudner, famed stand-up comedienne
I married the first man I ever kissed. When I tell my children that, they just about throw up.
—Barbara Bush, devoted former First Lady
I've had an exciting time. I married for love and got a little money along with it.
—Rose Fitzgerald Kennedy, philanthropist and matriarch of the Kennedy clan
Marriage is a matter of give and take, but so far, I haven't been able to find anybody who'll take what I have to give.
—Cass Daley, singer, comedian, and actress of radio, TV, and film
Marrying a man is like buying something you've been admiring for a long time in a shop window. You may love it when you get it home, but it doesn't always go with everything else in the house.
—Jean Kerr, Irish-American humor writer and playwright
I must quit marrying men who feel inferior to me. Somewhere there must be a man who could be my husband and not feel inferior. I need a superior inferior man.
—Hedy Lamarr, Austrian-born actress and inventor
The trouble with some women is they get all excited about nothing—and then they marry him.
—Cher, iconic pop singer and actress
If the husband and wife can possible afford it, they should definitely have separate bathrooms for the sake of the marriage.
—Doris Day, super wholesome actress, singer, and animal welfare activist
My husband and I celebrated our thirty- eighth wedding anniversary. You know what I realized? If I had killed the man the first time I thought about it, I'd have been out of jail by now.
—Anita Miller, funny woman
I had to really cut down on my dating.
—Sarah Michelle Gellar, actress and producer, on how her life changed after marriage
Before accepting a marriage proposal, take a good look at his father. If he's still handsome, witty, and has all his teeth…marry him instead.
—Diane Jordan, comedian
An archaeologist is the best husband a woman can have. The older she gets, the more interested he is in her.
—Agatha Christie, famed English mystery author
One advantage of marriage, it seems to me, is that when you fall out of love with him or he falls out of love with you, it keeps you together until maybe you fall in again.
—Judith Viorst, journalist and psychoanalytic researcher
Age does not protect you from love, but love to some extent protects you from age.
—Jeanne Moreau, French actress, singer, screenwriter, and director
No love-story has ever been told twice. I never heard any tale of lovers that did not seem to me as new as the world on its first morning.
—Eleanor Farjeon, English author of plays, poetry, biography, fiction, and satire
I truly feel that there are as many ways of loving as there are people in the world and as there are days in the life of those people.
—Mary S. Calderone, MD, doctor and advocate for access to birth control
But one of the attributes of love, like art, is to bring harmony and order out of chaos, to introduce meaning and affect where before there was none, to give rhythmic variations, highs and lows, to a landscape that was previously flat.
—Molly Haskell, feminist film/theater critic and author
Who has not found the heaven below Will fail of it above.
God's residence is next to mine. His furniture is love.
—Emily Dickinson, reclusive yet immortal poet
What the world really needs is more love and less paperwork.
—Pearl Bailey, award-winning African-American actress and singer
The person who tries to live alone will not succeed as a human being. His heart withers if it does not answer another heart. His mind shrinks away if he hears only the echoes of his own thoughts and finds no other inspiration.
—Pearl S. Buck, author and Nobel Prize winner
Do you want me to tell you something really subversive? Love is everything it's cracked up to be. That's why people are so cynical about it. It really is worth fighting for, being brave for, risking everything for. And the trouble is, if you don't risk anything, you risk even more.
—Erica Jong, controversial novelist and poet
A man has only one escape from his old self: to see a different self in the mirror of some woman's eyes.
—Clare Boothe Luce, politician and first U.S. woman in a major post as ambassador
If there is any country on earth where the course of true love may be expected to run smooth, it is America.
—Harriet Martineau, nineteenth century English social theorist and the first female sociologist
Art is not necessary at all. All that is necessary to make this world a better place to live in is to love—to love as Christ loved, as Buddha loved.
—Isadora Duncan, dancer who transformed the rules of dance
I don't want to live—I want to love first, and live incidentally.
—Zelda Fitzgerald, novelist, painter, and socialite of the 1920s
Love is a great beautifier.
—Louisa May Alcott, famed novelist and poet
Love's greatest gift is its ability to make everything it touches sacred.
—Dr. Barbara De Angelis, author and transformational teacher
Not all of us have to possess earthshaking talent. Just common sense and love will do.
—Myrtle Auvil, author of a book on covered bridges in West Virginia
Love alone could waken love.
—Pearl S. Buck, author and Nobel Prize winner
If it is your time, love will track you down like a cruise missile.
—Lynda Barry, feminist cartoonist, author, and teacher