Sandy Rosenthal (author of Words Whispered in Water) dissects the disaster Hurricane Ida left in its wake and how we can help those affected.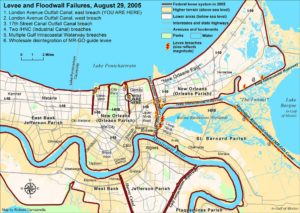 For those wanting to help the victims of Hurricane Ida, click here.
Today, it's five days after Hurricane Ida, and I am compelled to offer up some stark differences between the outcome of this storm and the storm exactly sixteen years ago.
Five days after Hurricane Katrina exposed design flaws in the New Orleans levees, these were the conditions:
Between 12,000 and 15,000 survivors were at the Superdome and the Convention Center.
The astrodome in Houston was filled to bursting with evacuees.
Untold numbers of people were still waiting on their rooftops.
Families were torn apart and remain so for months, even years.
News anchor Garland Robinette raged at the indignities.
Mayor Ray Nagin went on WWLAM radio and said "Don't tell me 40,000 people are coming here. They're not here!"
Flabbergasting horrible rumors were swirling in a city completely cut off from the rest of the world due to FEMA's errors.
40,000 – 50,000 families needed to find a place for their kids to go to school.
1,000 troops finally arrived under the direction of Lt. Gen Russel Honore
These were the condition five days after H. Katrina's surge triggered failures in poorly designed levees.
In contrast, a top story today, five days after H. Ida on WWLTV is that "historic oak trees at the Oak Alley Plantation in St. James parish are damaged." I love Louisiana live oaks as much as the next person. But this very well illustrates the stark difference between the two August 29th events sixteen years apart.
We know now that as many as nine souls lost their lives during H. Ida. In contrast, sixteen years ago, it would be many months before the death count could even begin to be verified, a number of over 1,500.
My heart goes out to all those affected by Hurricane Ida and the resulting power outage in Louisiana. This is a disaster.
Hurricane Katrina and the exposed design flaws in the New Orleans outfall canal levees was a bona fide catastrophe.
For those wanting to help the victims of Hurricane Ida, click here.
Sandy Rosenthal, founder of Levees.org
Author, Words Whispered in Water (Mango, 2020)
---
Why the Levees Broke in Hurricane Katrina
It's a horror story, a mystery, and David and Goliath story all in one. In 2005, the entire world watched as a major U.S. city was nearly wiped off the map. The levees ruptured and New Orleans drowned. But while newscasters attributed the New Orleans flood to "natural catastrophes" and other types of disasters, citizen investigator Sandy Rosenthal set out to expose the true culprit and compel the media and government to tell the truth. This is her story.