Your Goal Guide author Debra Eckerling has posted several new blog posts- two for her The D*E*D* Method blog and one guest post for Writers on The Move, read all blog posts here!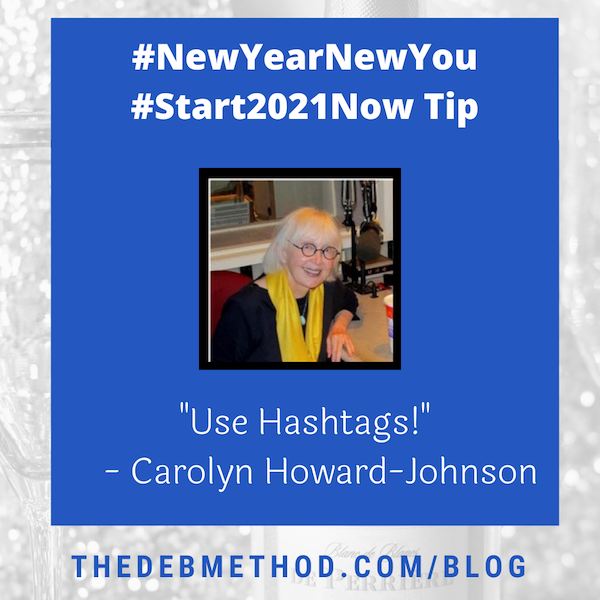 Carolyn Howard-Johnson's Tip to #Start2021Now
Today's #NewYearNewYou #Start2021Now Tip comes from author Carolyn Howard-Johnson. Her multi award-winning HowToDoItFrugally Series of books has helped writers worldwide.
Biggest Win in 2020
My biggest win of 2020 was doing a keynote for a writers conference out-of-state. It was in Michigan, the land of the Yoopers (Michigan Upper Peninsula). Of course, it was nearly canceled but my super publisher Victor Volkman, the powers-that-be at UPPAA (Upper Peninsula Publishers and Authors Association), and Zoom pulled through. The biggest plus about all this confusion is that the entire keynote is available free for all to see.
n all the years I have been speaking (and loving it!), that has never been available. Conferences tend to sell tapes, not give away their keynote. And other than beating Covid, it's the reason this is my 2020 favorite. Getting to share with so many on demand!
Big Goals for 2021 & Motto
My biggest goal of 2021 is to reedit The Frugal Editor (third edition) and, with Modern History Press, reach more authors than ever. "The More You Know…" has become a new motto and my experience as an editor tells me that most if not all authors need to know more about editing and related publishing skills. It will be released fall of 2021.
I also am a bit tired of hearing friends, clients, and fellow authors tell me they aren't on Twitter. It has been so beneficial. Twitter, the land that doesn't discourage marketing! So goal two? A new slender book in the #HowToDoItFrugally Series on Frugal Tweeting for Authors. It's a working title! Send me your ideas! I'm shooting for spring, 2021.
Carolyn Howard-Johnson's Tip to #Start2021Now
How can I not suggest a big tip that Deb is using so effectively starting with #GoalChat? Use hashtags.
I love the idea of registering them. I did it years ago with Twubs.com for #SharingwithWriters #HowToDoItFrugally #MovieReviews #BacktoLiterature #FrugalBookPromoTips #TheFrugalEditor and about a dozen more. Twubs supplies an individualized page for you and collects your hashtags there along with anyone else who happens to use yours. It's fun and great exposure.
---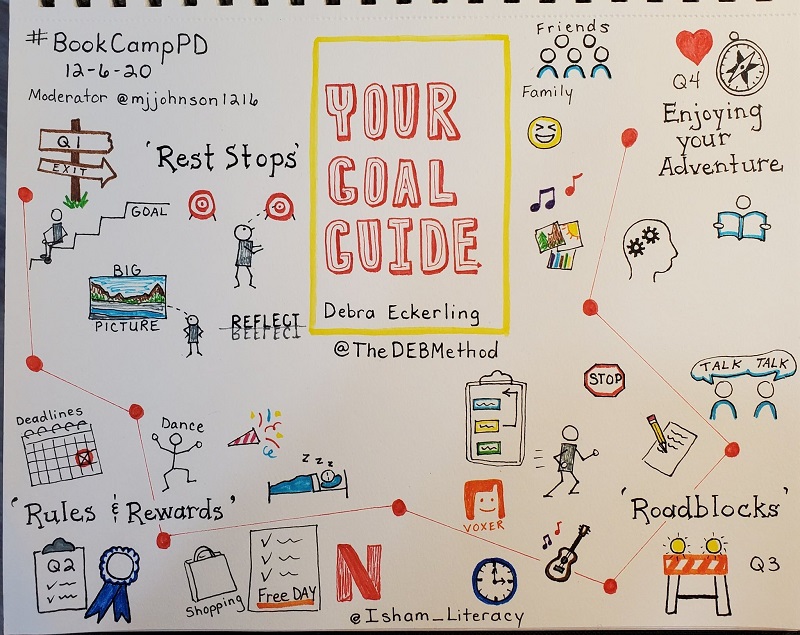 The #BookCampPD Twitter Book Club featured Your Goal Guide on November 29 and December 6. I felt very welcomed by this wonderful, interactive community of education professionals!
To add to my excitement, #BookCampPD founder Meredith Johnson wrote a beautiful endorsement of my book on her blog.
"What an absolutely witty way to craft the writing of a book so educators all across the globe would embrace the steps Debra shares," she wrote. "It was anything but a boring as she guides the reader through visualizing a goal, writing a biography, exploring different destinations and many fun filled other steps. I was having the best time reading through the chapters and imagining what the future could hold."
For more on these Twitter chats …
Be sure to check out this amazing sketch note by Kimberly Isham @Isham_Literacy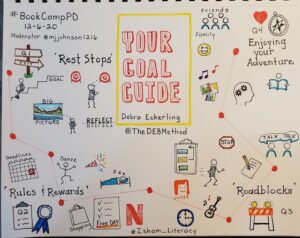 Join the #BookCampPD Twitter chat every Sunday at 4:30pm PT. And also check out the rest of the books being highlighted this season.
Online Book Clubs
Are you interested in using Your Goal Guide: A Roadmap for Setting, Planning and Achieving Your Goals as a selection for your book club? Please reach out. I would be happy to drop in for your discussion. Contact me.
---
When was the last time you set self-care goals?
Any time of year is the right time to take care of yourself. However, the holiday season is the perfect reminder to take a step back and think of what you need to do to have more of that essential work-life balance.
Last month, I posted a self-care goal every day as part of #BeNicetoYou November. Here are some of the highlights.
10 Self-Care Goals
1. Take a Walk. Walking gives you a physical and mental boost. It can be short or long; around the block/your home. The point is to give yourself a break, step away from your computer, and shake up your routine.
2. Set a Dream Goal. Part of self care is allowing yourself to dream. What do you want to do? To create? Reach for the stars.
3. Set an Attainable Goal. In addition to dream goals, it's important to give yourself some easy wins.
4. Meditate. Whether it's 5, 15, or 50 minutes, take some time to sit still, breathe, and reconnect.
5. Start a Project. Bonus points if you choose a back-burner project.
6. Take a Dance Break. This is my favorite way to hit the reset button.
7. Learn Something. Want to pick up a new hobby, language, or skill? Spend some quality time on YouTube, and educated yourself.
8. Disconnect. Take a few hours to unplug and chill out.
9. Curl Up. With a good book, a puzzle, or your phone.
10. Make Soup. Preparing and enjoying comfort food – soup or otherwise – is the ultimate self-care goal.
Make a point to do something to take care of yourself each day, Whether it's a few minutes or an hour. Your body will thank you. Plus, you will be happier and much more productive,
Read all of my November self-care goals.
---
A Roadmap for Setting, Planning and Achieving Your Goals
Start with a plan. One of the biggest reasons goals fail is that we often don't put enough thought into what we really want before diving in. Your Goal Guide by Debra Eckerling starts with that first, crucial step: figuring out your goals and putting a plan in place. As a professional writer, communications specialist, and project catalyst with more than 20 years of experience, Eckerling is prepared to help you achieve success.