Your Goal Guide author Debra Eckerling has written a new blog post on how to start the new year off right by starting your new year this month! Find out why here.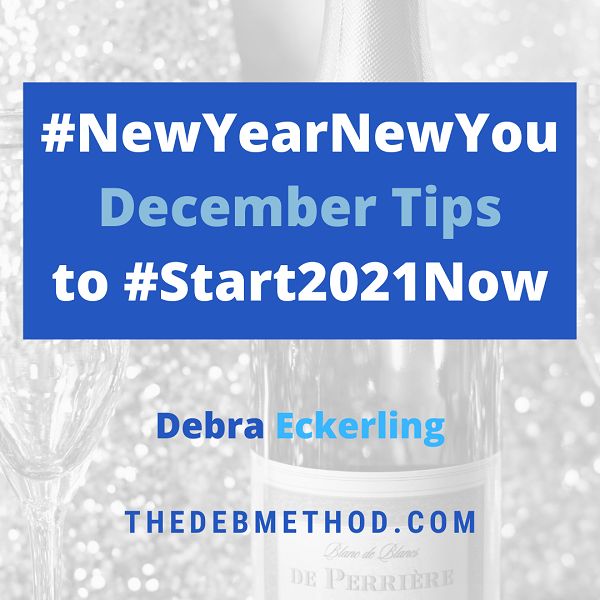 Read for some #NewYearNewYou December Tips? It's #DEBcember and I am determined to help you #Start2021Now!

As you may know, I decided to Start 2021 on December 1. Many are anxious to leave 2020 behind, so I figure why not get a jump on 2021!
Every day in December, I will post a #NewYearNewYou #Tip on @TheDEBMethod social media accounts. To give you all as much support and motivation as possible, I'll also be sharing tips from awesome peeps throughout the month!
DEBember 1st #NewyearNewYou Tip
Create a Vision Board for your #GoalTopia.
Step 1. Name 26 things you want, one for each letter of the alphabet.
Virtual Scavenger Hunt A to Z Worksheet
Step 2. Choose 10 meaningful items from your list.
Step 2 – Virtual Scavenger Hunt – Top 10 List Worksheet
Step 3. Find your 10 items. Grab an image that represents each item on your list.
Step 4. Upload your images and create a collage.
Step 5. Title Your #GoalTopia. Use a theme song, phrase, or motto.
Steps 3, 4 & 5 – Virtual Scavenger Hunt Collage How To
What does your vision board look like?
Please let us know in the comments.
* * *
Who am I?
I am a goal-setting expert and author of Your Goal Guide: A Roadmap for Setting, Planning and Achieving Your Goals. I am all about helping people figure out what they want and how to get it. And when working towards your goals, you also need to take care of yourself!
Follow @TheDEBMethod on Twitter, Facebook, and Instagram. And connect on LinkedIn.
---
A Roadmap for Setting, Planning and Achieving Your Goals
Start with a plan. One of the biggest reasons goals fail is that we often don't put enough thought into what we really want before diving in. Your Goal Guide by Debra Eckerling starts with that first, crucial step: figuring out your goals and putting a plan in place. As a professional writer, communications specialist, and project catalyst with more than 20 years of experience, Eckerling is prepared to help you achieve success.