Your Goal Guide author Debra Eckerling has written a blog post about her very busy week at the beginning of January, highlighting all of the wonderful events she participated in!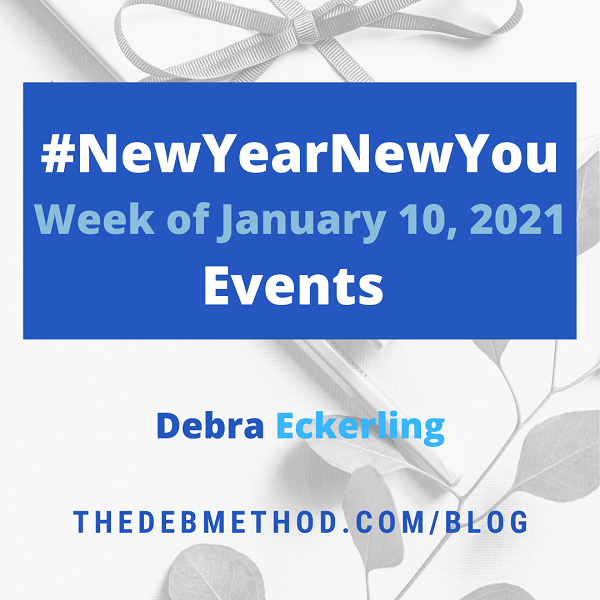 One week into #NewYearNewYou and there is so much is going on. Take care of yourself as you work towards your goals. Lots of events this week, and I hope you can join me!
January 10: #GoalChat at 7pm PT on Twitter. Topic is Events.
January 11: Finding #GoalTopia: A Vision Board Virtual Scavenger Hunt at 12pm PT. In this fun, interactive workshop, goal-setting expert Debra Eckerling will lead you through a series of exercises to help you hone in on what you want and then create a vision board – aka Goal Map – for your #GoalTopia. #GoalTopia is that magical place where you are achieving your goals and living your ideal life. Register for this Pulveredu.com class.
January 11: #GoalChatLive at 4pm PT on the Mango Publishing Facebook page. Join me and my friend Jeff Pulver, Pulver.com and Pulveredu.com, to talk about virtual events. Watch live or catch the replay.
January 13: Women's National Book Association – Los Angeles Chapter 1st Annual Share & Tell at noon PT. Get details and RSVP
January 13: Mango Publishing Heart Wisdom Panel with Sherry Belul and G. Brian Benson. Topic is Habits and Goals at 1:30pm PT. RSVP on Facebook. This was rescheduled from last Wednesday.
January 14: It is the one-year book birthday for Your Goal Guide: A Roadmap for Setting, Planning and Achieving Your Goals, Get your copy and be sure to join the Your Goal Guide Facebook group to ask questions and share your journey.
January 15: 5 Tips to Win as a Writer in 2021 for the Women's National Book Association – San Francisco Chapter at 12pm PT. Whether this is the year that you finish your book, find an agent, get published, or achieve a different writing goal, join Debra Eckerling to hone in on your goals and make a plan. Get more info and register.
* * *
Throughout January, I will post #NewYearNewYou Events, videos, #Tips, and more on @TheDEBMethod social media accounts. Follow @TheDEBMethod on Twitter, Facebook, and Instagram. And connect on LinkedIn.
---
A Roadmap for Setting, Planning and Achieving Your Goals
Start with a plan. One of the biggest reasons goals fail is that we often don't put enough thought into what we really want before diving in. Your Goal Guide by Debra Eckerling starts with that first, crucial step: figuring out your goals and putting a plan in place. As a professional writer, communications specialist, and project catalyst with more than 20 years of experience, Eckerling is prepared to help you achieve success.