Debra Eckerling, author of Your Goal Guide, uploaded a guest blog post that fellow Mango author Nita Sweeney wrote on her tips on how to #Start2021Now.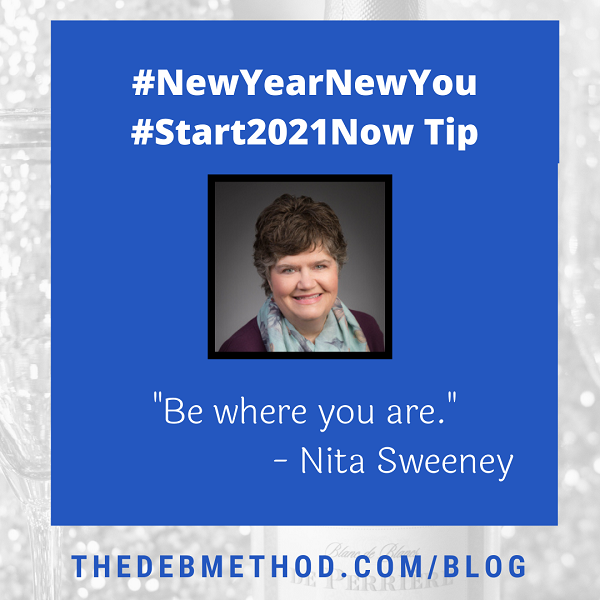 Today's #NewYearNewYou #Start2021Now Tip comes from award-winning wellness author, marathoner, meditator, and dog-mom Nita Sweeney, Depression Hates a Moving Target. I asked Nita to share her wins, goals, and motto, along with her tip to #Start2021Now.
Biggest Win in 2020
I spoke at the Run Pain Free Summit on a panel with Olympic medalist Deena Kastor and Boston Marathon icon Kathrine Switzer about the emotional and mental aspects of running.
3 Big Goals for 2021
Launch my third book
Grow the Mind, Mood, and Movement Facebook Group to 5,000 members
Grow my email list to 5,000 subscribers
Motto for 2021
Keep your head where your feet are.
Nita Sweeney's Tip to #Start2021Now
Be where you are. The love you want is right here, in this moment.
* * *
#GoalChatLive on Journaling with Nita Sweeney
Nita talked about journaling on #GoalChatLive last summer. Read the recap and watch the video.
---
A Roadmap for Setting, Planning and Achieving Your Goals
Start with a plan. One of the biggest reasons goals fail is that we often don't put enough thought into what we really want before diving in. Your Goal Guide by Debra Eckerling starts with that first, crucial step: figuring out your goals and putting a plan in place. As a professional writer, communications specialist, and project catalyst with more than 20 years of experience, Eckerling is prepared to help you achieve success.
---
A Journal of Inspiration & Instruction to Keep Your Pen Moving
Writing Inspiration from Incredible Authors. Gathered by Brenda Knight and writing coach Nita Sweeney, author of Depression Hates a Moving Target, You Should Be Writing provides you with writing wisdom from a variety of accomplished authors.
Writing Practice on Every Page. This journal is a must-have for writers everywhere. With quotes from a diverse group of historical and modern authors to use as creative prompts on every page, you'll be able to bring your writing inspiration with you wherever you go. You'll find plenty of great advice, such as Toni Morrison's encouragement, "As a writer, a failure is just information. It's something that I've done wrong in writing, or is inaccurate or unclear. I recognize failure—which is important; some people don't—and fix it."