Debra Eckerling, author of Your Goal Guide, has uploaded two posts on her October 2020 goals for both her blog the D*E*B Method and for Write On Online.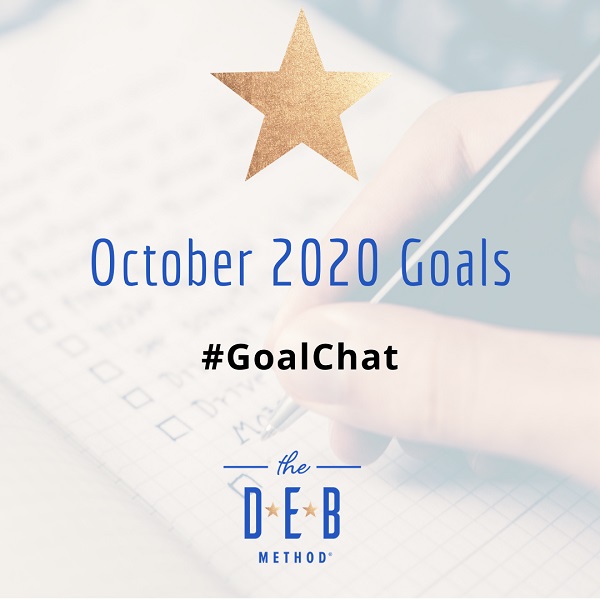 Are you ready for October? Did you set your October 2020 Goals? The #GoalChat community shared their October Goals, along with September wins, during Sunday night's chat.
The year is winding down, but there's still plenty of time to get a win or two. So, what project will you complete to finish off the year? What project do you want to start? Anything goes with #GoalChat, so set yourself up for success
Read the Twitter Moments Recap.
How did you do in September? What are your October Goals? Commend below or in the Facebook group.
Write On Online Post:
Congratulations, Cristina Deptula, the September winner of a book from Michael Wiese Productions for posting goals. To be entered in next month's drawing, post October 2020 Goals here or interact with Write On via Facebook during the month of September. A winner will be chosen at random.
Join the Write On Online Facebook Group here.
Check out #GoalChat every Sunday at 7pm Pacific/10pm Eastern. Go to Twitter and follow the hashtag. Miss a chat? Read the recaps.
Watch #GoalChat Live every Monday at 4pm PT on the Mango Publishing Facebook Page.
Post October 2020 Goals in the comments or share goals on Facebook for your chance to win a book from Michael Wiese Productions.
---
A Roadmap for Setting, Planning and Achieving Your Goals
Start with a plan. One of the biggest reasons goals fail is that we often don't put enough thought into what we really want before diving in. Your Goal Guide by Debra Eckerling starts with that first, crucial step: figuring out your goals and putting a plan in place. As a professional writer, communications specialist, and project catalyst with more than 20 years of experience, Eckerling is prepared to help you achieve success.