The Two Classy Chics blog writes that Katie Stryjewski's book- Cocktails, Mocktails & Garnishes from the Garden- will definitely get you in the mood for upcoming parties.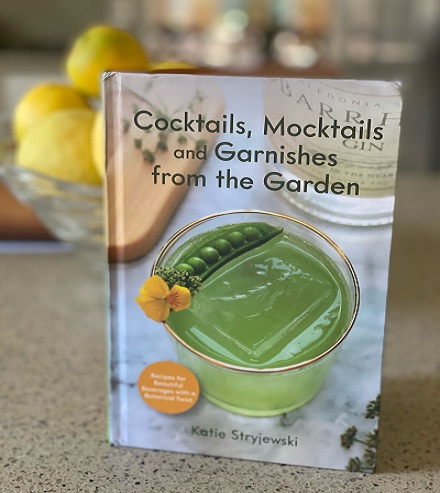 While I'm typically a wine girl, I love to order a cocktail when I go out to dinner and I've upped my cocktail game at home over the last year with quarantine cocktail night. My husband tends to go for the standards like an Old Fashioned or a Manhattan and I tend to veer toward the Cosmopolitan and champagne cocktails. I was recently sent a copy of Katie Stryjewski's book, "Cocktails, Mocktails and Garnishes from the Garden," which is a beautiful and boozy (or non-boozy if you desire) guide to crafting delicious cocktails at home with gorgeous garnishes from your garden. The book's author is a writer, cocktail photographer, recipe developer, and Instagram influencer. She trained as an ornithologist and evolutionary biologist, receiving her Ph.D. from Boston University and completing a postdoc at Harvard University before transitioning to her current career.
* Complimentary book received for review. This post may contain affiliate links.
From learning more about stocking your bar with the right bottles to using the perfect glassware, this book will help you become comfortable making classic cocktails such as Margaritas and Gimlets, as well as some more creative libations like the Thai Bloody Mary to mix things up. The book also offers tips and tricks on how to garnish your drinks and what it takes to grow a cocktail garden.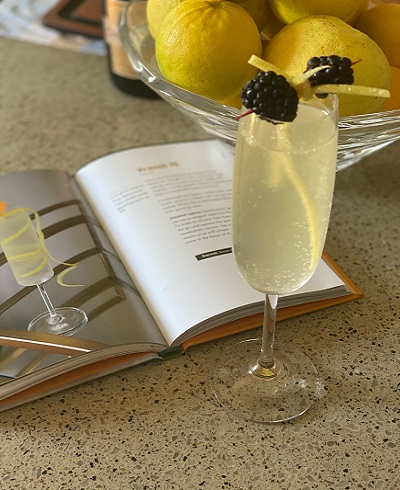 Since we live in Southern California, we have an abundance of citrus at the ready—between my lemon tree and my neighbor's lime tree and my in-laws grapefruit tree—we are prepared to pick and make the perfect drink.
I decided to try my hand at a French 75 cocktail, which is an elegant mixture of gin (or cognac), lemon juice, simple syrup and sparkling wine. I have to say, it came out quite beautifully and tasty to boot. While we didn't have the right flower garnish on hand (nasturtium), we did have some lemon rind and blackberries, so we got a little creative. That's what I love about this book. It's inspiring and gets you thinking out of box a bit. What's really great is that this recipe also has a mocktail version available too, so you can really mix things up.
"Cocktails, Mocktails and Garnishes from the Garden" is perfect for stirring things up and taking your drinks to a new level. With spring (and Mother's Day right around the corner), it will get you in the mood for garden parties, backyard barbeques and boozy brunches for sure.
The book is available for $22.95 and can be found on Amazon and Bookshop.
To learn more about Katie, you can find her on Instagram. You can also visit her blog at www.garnishblog.com.
---
Recipes for Beautiful Beverages with a Botanical Twist
The go-to reference for classic and modern cocktail recipes. Whether it's adding a basil sprig or infusing gin with peaches; Cocktails, Mocktails and Garnishes from the Garden gives readers the ability to make classic cocktails and the confidence to craft innovative concoctions. Alongside recipes of some of the most popular cocktails comes new-fangled libations, non-alcoholic equivalents, and instructions to create gorgeous garnishes.