Becca Anderson, author of You Are An Awesome Woman, has an important message on self-care and self-love.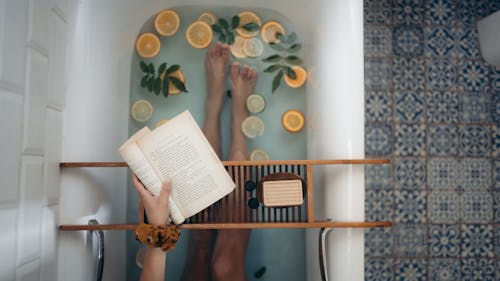 Be kind to yourself, too. Make a commitment to yourself to refrain from negative self-talk. Be kind to yourself and focus on the traits you like rather than the ones you don't. The extremely wise Dawna Markova, the author of some of my favorite books, including I Will Not Die an Unlived Life, says, "Your soul remembers when you put yourself down; it imprints upon you. Never do this. Self-compassion is key to a life well-lived." How can you take better care of yourself?
You know the feeling too well: you're worn out. The end of the rope you're dangling from is frayed and about to snap. But you can't stop. Your to-do list is longer than the beginnings of that novel you've been working on, and every second that ticks by is gone forever. STOP! You're no good to anyone in this state—not to your boss, your best friends, your family, and most of all, yourself.
In high school, I was a bit of an overachiever, wearing myself to the bone to get good grades and participate in every extracurricular activity I could. Overall, I enjoyed it, but I remember waking up one morning and having my mother tell me I should stay home from school. I wasn't really sick, but I was exhausted. I didn't know what to make of it—most parents would punish their kids for trying to get out of going to school. But her lesson was partly about perspective. If I was sacrificing my health and my sanity for things that were meant to be fulfilling and fun, what was the point? And she knew better than I that some downtime would refresh me, and then I could hit the ground running the next day doing what I loved.
Naps. Walks. Quiet time. Meditation. Breathing. Daydreaming. Baths. A good book. Or maybe best of all, doing nothing. When's the last time you took a step back and really took a moment for yourself? It's about time. Here are a few famous quotes as well as some tried-and-true suggestions from ladies like you and me for taking good care of number one.
---
Affirmations and Inspired Ideas for Self-Care, Success and a Truly Happy Life
Master the art of thinking happy: You know what they say about happiness—it's an "inside job"—which is 100 percent true. Use the affirmations, quotes, and ideas in this book as a set of tools for your own self-development. They are for "inner work." Much has to do with adjusting your attitude. Depending on the day, it might be a slight adjustment or a major overhaul, but the more you practice daily affirmations, the fewer adjustments you'll need. One day you will realize you have mastered the art of "thinking happy" and are looking at the bright side of life, every day. Incorporating positive thoughts as a daily practice will build mental muscle and help you achieve the all-important optimistic way of thinking.