Badass Affirmations author Becca Anderson has written a new blog post on how to shake up your life to keep things fun and lively!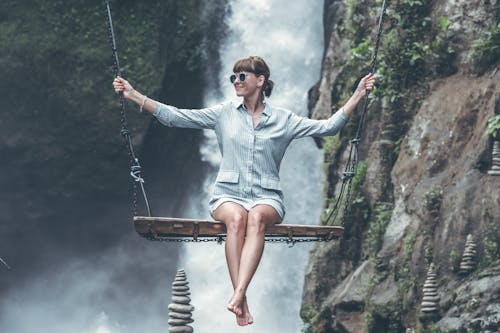 "If you think you are too small to be effective, you have never been in bed with a mosquito."
BETTY REESE
"We lift our voices as one; let all know, we are here, and we intend to stay!"
NANCY FREDERICK
"Cautious, careful people always casting about to preserve their reputation or social standards never can bring about reform. Those who are really in earnest are willing to be anything or nothing in the world's estimation…and bear the consequences."
SUSAN B. ANTHONY
"We've chosen the path to equality, don't let them turn us around."
GERALDINE FERRARO
"If particular care and attention are not paid to the ladies, we are determined to foment a rebellion, and will not hold ourselves bound by any laws in which we have no voice or representation."
ABIGAIL ADAMS
"Justice is better than chivalry if we cannot have both."

ALICE STONE BLACKWELL
"I am in the world to change the world." MURIEL RUKEYSER
"I believe in a lively disrespect for most forms of authority."
RITA MAE BROWN
"I prefer liberty to chains of diamonds." LADY MARY WORTLEY MONTAGU
"Women belong in the house…and the Senate." ANN RICHARDS
"What is enough? Enough is when somebody says, 'Get me the best people you can find' and nobody notices when half of them turn out to be women."
LOUISE RENNE
"You can't get swept off your feet if you are sitting down. Stand up and be noticed!"
CLAIRE CAMDEN
"Men have always been afraid that women could get along without them."
MARGARET MEAD
"It's been a lot of fun making the revolution." BETTY FRIEDAN
"I'll not listen to reason. Reason always means what someone else has got to say."
ELIZABETH GASKILL
---
Everything You Need to Know About Love and Life
Advice from girl bosses of all kinds: Women are, far and away, the Oral Sex. Women's Studies scholar Becca Anderson has gathered the wisdom from a chorus of fabulous femmes for this one-of-a-kind advice book. From housewives to Hollywood starlets, from standup comedians to startup entrepreneurs, these badass women offer unvarnished and unabashed opinions and share their frank and forthright thinking on the wild world of relationships.