Jack Bobo (author of Smart People, Bad Choices) guides us to smarter food choices and improving our quality of life.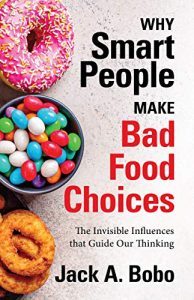 Consumers have never known more about nutrition and yet, have never been more overweight. For most Americans, maintaining a balanced diet is more difficult than doing their taxes. What are we doing wrong? Jack Bobo has been engaged with the food system from farm to table and is the author of a new book "Why Smart People Make Bad Food Choices". He is a food psychology expert with over 20 years advising four U. S. Secretaries of State on food and agriculture. In his book and here on Farm to Table Talk he guides us to smarter food choices and improving our quality of life. https://futurityfood.com/
Podcast: Play in new window | Download
Subscribe: Apple Podcasts | Android | Stitcher | TuneIn | RSS
---
The Invisible Influences that Guide Our Thinking
Learn to eat better. Jack Bobo reveals how the psychology of food has been invisibly controlling us all along, in the grocery aisles, at restaurants, in front of the refrigerator, and in every other place we make crucial food choices. Behavioral science is changing the way we think about food and showing us how to develop healthy meal plans and deliver more balanced diets.
Apply behavioral science to your diet plan. A balanced diet creates a healthy lifestyle routine and better quality of life. You can move beyond fad diets, pop science, and calls for ever greater willpower. Explore the deeper causes of hidden influences and mental shortcuts our minds use to process information and how they often prevent us from healthy eating habits.