Sharon Charde (author of I Am Not a Juvenile Delinquent) talks about writing for the purpose of healing one's experience with discrimination.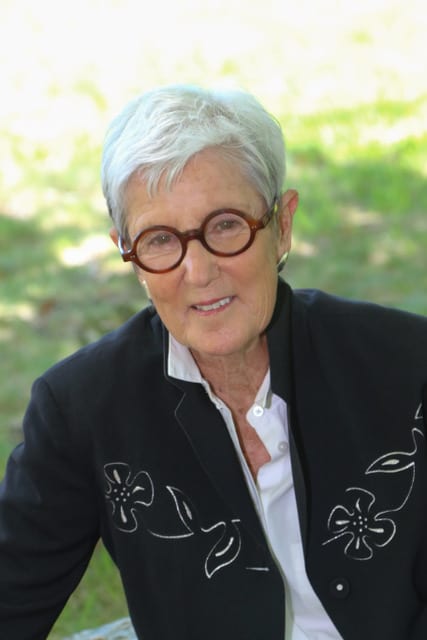 In 2020, Sharon Charde P'83, '84 published I Am Not a Juvenile Delinquent, about her experience running a poetry workshop with at-risk girls from Touchstone, a residential facility in Litchfield, CT. Little did she know that the innovative writing program she later forged between the girls at Touchstone and Hotchkiss girls would have a such a powerful lasting effect. In a virtual reunion last winter, Hotchkiss alumnae spoke about how the program impacted their lives long after they graduated.
The story began more than 20 years ago. Charde, a family therapist and published poet, began volunteering at Touchstone in part to help her deal with the death of her son, Geoffrey '84, who lost his life tragically in 1987. She knew by encouraging the Touchstone girls to write she could help them work through their trauma and in the process continue to heal herself.
Their work inspired her to organize poetry readings outside Touchstone, including at Hotchkiss. Not long after, in 2004, Charde and Nancy Gaynor, then a Hotchkiss health services counselor and Human Development instructor, launched a poetry workshop, bringing together Hotchkiss and Touchstone girls in an English classroom once every two weeks over pizza and writing. The program ended in 2014, when Gaynor retired, but many of the Hotchkiss girls who participated in it over the years said the experience proved invaluable in their own community outreach projects and in their personal lives.
Jiezhen Wu '09 described how the experience helped her build the foundation for the work she pursued in college, and beyond.
"When I was in Singapore during my summer and winter breaks from Hotchkiss, my experience with Touchstone inspired me to start volunteering at a girls' home in a similar kind of context. I really appreciated being able to connect with them and to create spaces for the community.
"And I think being part of Touchstone gave me that courage to initiate it. Often with youth at-risk programs, the kids are typically seen as beneficiaries instead of as creators, instead of as young people with potential and possibilities," she explained.
After graduating from Wellesley, Wu was recruited by a social impact organization that works with young people in Asia to build programs, opportunities, and incubators that empower them.
"I think Touchstone really gave me the perspective to recognize that we're all here with our gifts and our strengths, and we need to come from a place of a shared humanity. Most recently, I was an Equity and Inclusion Fellow at Harvard, where I partnered with the different schools, staff, and students to create more inclusive spaces and conversations across campus. A lot of the seeds of the work I do in leadership, inclusion, and organizational transformation were sown during my time with Touchstone, and for that I am truly grateful."
The practice of writing together and listening to each others stories drew the two groups of girls from seemingly different worlds closer, and they discovered they had much more in common than they first thought. "Any differences between the two groups became irrelevant. The Hotchkiss girls were clearly moved by all they learned from the Touchstone girls, and the stories they heard gave them the freedom to reveal the complexities and issues in their own lives they might not have shared outside of that safe space," Gaynor said.
That was true of Aushlee Cumming Motes '04, director of LinkedIn Creative Studio, who developed a deep love of writing and gained a sharper sense of herself from the experience.
As a Hotchkiss senior she wrote:
"The experience of hearing their stories changed me, altered my perception of the world and made it clearer, somehow more important. The words were not my own, but they spoke for me…these young women helped me imagine me as someone I could never have been, someone I could never have dreamed of being. They helped me realize how much of ourselves we really shared. … I was confronted with my own insecurities, and each narrative helped me to appreciate the lessons and strengths that can come out of what appear to be the worst situations."
"That is still true and real to how I feel today," said Motes."Attending Hotchkiss was a very specific kind of thing for me; it was an escape. It was a truly life-changing opportunity, and there are parts of the experience that were really very beautiful and parts that were also very difficult. I think what I really got a chance to experience with the Touchstone girls was the space to be true to a certain part of myself that I actually had hidden in the space that was Hotchkiss, or that people didn't necessarily know about me, my family, or how I grew up. You know, that double consciousness… And in a way, it allowed me to relieve some of that. To say that, yes, there are soft parts. There are hard parts. There are struggling, striving parts of who I am.
"I was grateful for that space to have the ability to reflect honestly, especially at that age. Touchstone also allowed me to spend time doing something I really loved, which was writing; and today I spend all my days in pursuit of telling stories. LinkedIn's mission is to create economic opportunity, and I'm particularly interested in how people from diverse backgrounds and different walks of life are served by that mission. And, I think I can trace that work to a calling I was grasping for as far back as Hotchkiss and as part of Touchstone from its earliest days."
While virtual reunions can sometimes eclipse the intimacy of in-person experiences, for Natalia Torres '07 the reunion was a chance to connect with many other alumnae who had participated in the program over the years.
"It felt really special to see how the experience transcended time and broke down the social barriers that inevitably come with being in high school, especially, I think, at Hotchkiss," she said.
After Hotchkiss, Torres attended Yale and majored in Art and Ethnicity, Race, & Migration. After graduating, she worked as a middle-school counselor supporting students of color in independent schools. She went on to earn her master's in education from the Harvard Graduate School of Education, where she focused on racial justice and educational equity. Her graduate work led her to DreamYard in New York, where she was able to merge her passions for education, art, and racial equity.
Founded by Hotchkiss alumni Jason Duchin '84 and Tim Lord '83, DreamYard is a social justice educational organization that uses art as a tool to advance racial equity and build community.
"We work in partnership with public schools and community organizations in the Bronx, and also have an on-site art center with free programming and services for young people and families," said Torres.
"While our work comprises many things, one of the elements that I find most powerful, and that I experienced during my time with Touchstone, is the opportunity for students to both author their own stories and have a platform to share them. I believe that providing students, particularly Black and brown students who have been historically marginalized, with the space to creatively express themselves, to see themselves as part of a community, and to see themselves as able to create change within their community, can be transformational."
---
How Poetry Changed a Group of At-Risk Young Women
After the death of her child, a grief-stricken psychotherapist volunteers as a poetry teacher at a residential treatment facility for "delinquent" girls. Here, their mutual support nourish and enrich each other, though not without large quantities of drama and recalcitrance. For fans of the acclaimed movies Stand and Deliver and The Freedom Writers Diary comes I Am Not a Juvenile Delinquent: How Poetry Changed a Group of At-Risk Young Women.