Your Goal Guide author, Debra Eckerling, has created two new blog entries- one about a #GoalChats recap on the topic of persistence and the other on a recap of the most recent Heart Wisdom Author's Panel.
#GoalChats on Persistence with author Diana Giovinazzo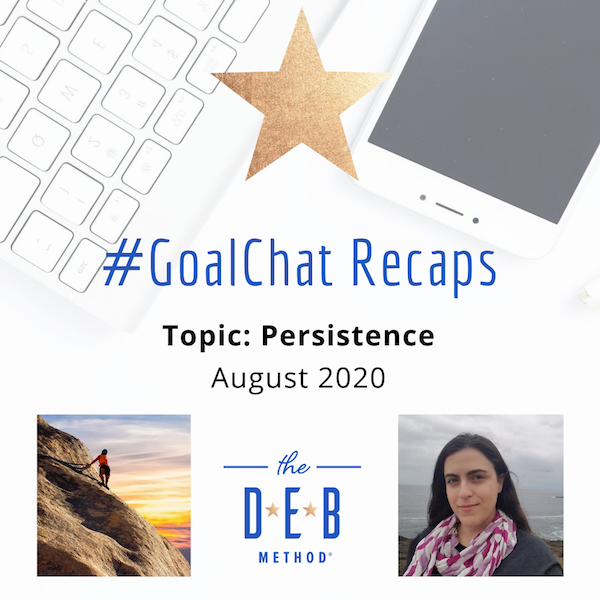 This week on #GoalChatLive, I was joined by historical fiction author Diana Giovinazzo, The Woman in Red, to talk about Persistence. Diana is also the Women's National Book Association – Los Angeles chapter president and co-host of the Wine, Women, and Words podcast.
Like many of us, Diana had her share of setbacks on her journey to #GoalTopia. During our conversation, Diana explained how she remained persistent in pursuit of an agent … She also revealed the #fail that lead her to take a break from writing, as well as what brought her back to her passion for words.
Sunday's Twitter conversation was also filled with plenty of thoughts on the value of persistence, as well as advice for remaining persistent – from #GoalChat community.
Watch #GoalChatLive on Persistence
Bonus Goal: Persistence
Pick a number. It can be words or pages a day; queries or blog posts per week; or something else, Then, for the next month or two, do the work that gets you to that week's magic number. You will be amazed at your progress.
Links Mentioned
---
Finding Your Creative Flow: Heart Wisdom Panel Replay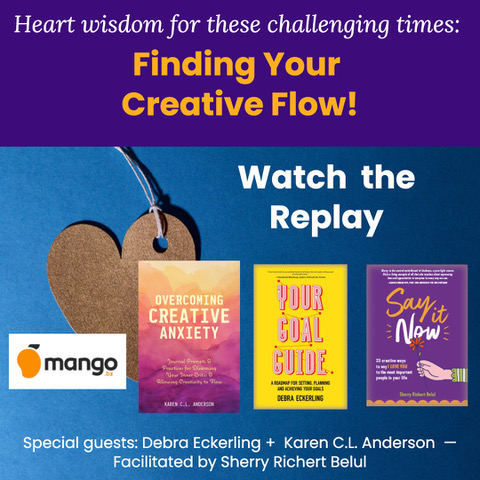 On Wednesday, I was fortunate to be on the most recent Mango Publishing Heart Wisdom Panel on Finding Your Creative Flow. Karen CL Anderson, Overcoming Creative Anxiety, and I shared our perspectives, along with tips on staying focused and creative during challenging times. Our wonderful – and informative – conversation covered goal-setting, creativity, balance, anxiety, and more. Sherry Richert Belul, Say it Now, moderated.
---
A Roadmap for Setting, Planning and Achieving Your Goals
Start with a plan. One of the biggest reasons goals fail is that we often don't put enough thought into what we really want before diving in. Your Goal Guide by Debra Eckerling starts with that first, crucial step: figuring out your goals and putting a plan in place. As a professional writer, communications specialist, and project catalyst with more than 20 years of experience, Eckerling is prepared to help you achieve success.