Zara Stone, author of The Future of Science is Female, was recently interviewer by her Alma-mater Queen Mary University, read Zara's interview here!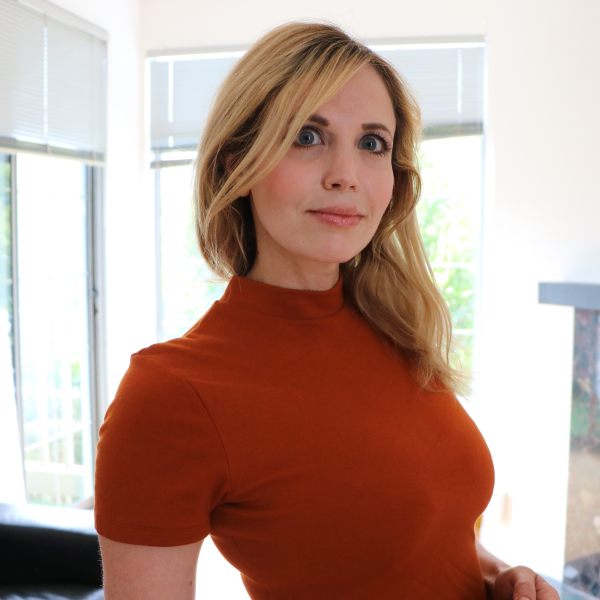 Alumni profile – Zara Stone
On any given day, I might be traveling to Silicon Valley to interview a humanoid A.I. robot, typing furiously on my laptop, testing out the latest virtual reality headset, or taste testing a $900 bite of lab-grown meat. My work is a mixture of interviewing, researching, writing and rewriting, with product testing, world travel, and drones thrown in. Published: 24 November 2020
What influenced your decision to study English at Queen Mary? What modules did you enjoy learning about and was there anything that surprised you in your studies? At the time, Queen Mary was ranked 2nd or 3rd for English in the UK, and I was excited about the opportunity to study with experts in this field. I'd always known that I wanted to be a journalist and an author, but I felt it was important to get a solid grounding in literature first. The courses offered were really varied, and I loved the idea of exploring the nuances of language and getting exposure to more diverse authors. I was also attracted by the location — the east end of London is a vibrant multicultural hotspot. The degree came with an option to spend a year abroad, and I'd always wanted to travel more. I spent my second year at UCLA in Los Angeles, and it was a magical experience; I now live in California!
I studied Caribbean-Indian literature and African American literature during my degree, which opened my eyes to the sheer volume and magnificence of diverse authors. I'm a fan of V. S. Naipaul and Vikram Seth to this day! I also took a module in detective fiction, and another in science fiction, which deepened my understanding of these fields, and gave me a greater appreciation of syntax and the poetry of the written word. Gaining this knowledge has helped me be a better writer and reporter and enabled me to assess narratives with a broader perspective.
What was special about your time at Queen Mary? Can you give one or two examples of your most memorable moments or favourite places on campus? I have so many wonderful memories of my time here…and so many blurry ones! As the last cohort to live in the South Woodford dorms, being such a distance from the campus really bonded the students together, and many of us still meet up today and reminisce about how the DJ played The Final Countdown at the end of every single E1 night. In my first year, I founded the Queen Mary's Angels cheerleading squad (inspired by a marathon Bring It On session) and established a strong body positivity approach, with open access to any gender, shape or size. I loved to hang out in the library — there were so many great nooks, and it really helped me focus. I wrote for the campus magazine, and that experience developed my understanding of working in a newsroom, and the complexities of printing and designing a physical magazine.
What were your early experiences like after graduating from Queen Mary? Did you find interesting work straight away or was it more of a journey? After I graduated, I started paid internships at a bunch of different media companies, spending two weeks at Men's Health, The Metro Newspaper, followed by two months at T3 Magazine, and two months at SHE Magazine. These positions were really helpful in clarifying what kind of position I wanted, and after six months, I accepted a role as technology writer at the blogging network Shiny Media, the UK's equivalent to Gawker and the Gizmodo Media Group. There were times when I thought I'd never get a staff job, and I watched many of my friends take positions in marketing and publishing, but I was stubborn, and that paid off! Working at Shiny Media introduced me to video journalism, and I hosted hundreds of videos on the company's YouTube, which led to working as a regular on-air correspondent for SKY News and the BBC. After six years, I decided I wanted to shift away from news to feature writing, and I applied to Columbia University Graduate School of Journalism in New York, for my Masters. This transitioned into a fellowship at The Wall Street Journal, and then to a full-time gig as an on-air reporter for ABC News' millennial TV channel.
Can you describe what you do now and what a typical working day looks like for you? I'm currently a full time freelance journalist, reporting for numerous outlets, including Wired Magazine, The Washington Post, Forbes, VICE, The Atlantic, Cosmopolitan Magazine, OneZero, Atlas Obscura, OZY, and more, as well as a recently published author of The Future of Science is Female: The Brilliant Minds Shaping the 21st Century.
There is no "typical" day for me, as my work varies so much. On any given day, I might be traveling to Silicon Valley to interview a humanoid A.I. robot, typing furiously on my laptop, testing out the latest virtual reality headset, or taste testing a $900 bite of lab-grown meat. My work is a mixture of interviewing, researching, writing and rewriting, with product testing, world travel, and drones thrown in. Writing my book involved all of those skills, and I struggled to do justice to the amazing women in it, who'd been so generous with their time.
You have a special interest in subcultures. How did you find your niche as a journalist? Growing up, I didn't have a lot of self-confidence, and so, as my career progressed, I've been drawn to the underdogs and those that exist on the fringes of society. I've always found it odd how some people are "othered" based on their interests, and I love exploring how their sense of identity evolves in response to society's behavior. Subculture is such a broad term; in the 1800s, you could have said Tesla and Edison were in a "science" subculture! Today, the phrase represents anything that isn't widely adopted by a critical mass — this ranges from biohackers and professional jousters to robot babysitters, startup founders, and lab-grown meat inventors. Magazines and newspapers are always searching for untold stories, eager to introduce people to the "new" and the "next," and my passion for exploring poorly represented communities was a perfect fit for their pages. My personal interest in technology was a perfect combination, as so much innovation exists on the outskirts. Being able to share the human narrative alongside the scientific prowess helped me define my own niche; and editors love it when you know who to go to for certain stories.
What's your weirdest/most memorable encounter you've had or story you've covered in your work? A few years ago, ABC Television News sent me to Spring Hill, Florida, to report on the 'Sirens of the Deep' mermaid camp and connect with local mermaids. I slid myself into a 30-pound silicone tail, and swam around the crystal blue lagoon, all the while coached by a senior mermaid. She instructed me how to move my body, and to dive down, so that people in the underwater theater could watch me through the glass. It's much harder to swim in a tail than I'd expected— with my feet locked together, there's less room for maneuverability! What really stood out about this trip were the professional mermaids. These women (and men) were a combination of passionate swimmers, theatre lovers, and dancers. Their reasons for mermaiding were varied, but essentially, with high unemployment rates in the area, and low economic opportunities, being hired as a mermaid came with instant prestige. These folks were not Disney addicts playing dress up; they were athletes. Working mermaids rarely get the respect they deserve; their careers often dismissed or sexualized, and the goal of my reporting was to broaden the public's perception of their careers.
Your new book, The Future of Science is Female: The Brilliant Minds Shaping the 21st Century, was recently released. Each chapter examines a different world problem, from climate change to criminal justice and the future of work, all told through the lens of diverse female scientists who are working on solutions. How did you come to write this book? Which of the stories or scientists covered in the book fascinated you the most? For the last couple of years, I've lived and worked in the San Francisco Bay Area, home to Silicon Valley, Apple, Twitter, and more. It's considered the nexus of startup innovation. It's a wonderful place, but it's predominantly populated by white men; in 2019, 2.8% of venture capital money went to female founders. Subsequently, the companies that get media coverage are mostly run by men, and the circle continues. This is a big deal; Women make up 20% of all undergraduate degrees in engineering, physics, and computer science but only 11% end up working in STEM. The gender gap is growing. Despite the lack of funding, there are thousands of awesome women-led startups out there, tackling really important problems. Because they're early-stage, they don't get the attention they deserve, which means that young women don't learn about them till they're big established names — impressive, but less accessible to middle school kids. I wanted to bring these women's stories to this audience, to inspire and educate them at a pivotal time in their education, and show them the amazing results a bunch of diverse, whip smart women have achieved. I felt it was really important that each chapter address a different world problem, from climate change to the criminal justice system, and illustrate the range of careers that fall under the STEM umbrella.
There are so many to choose from! But one woman that really impressed me was Etosha Cave, the cofounder of Opus12, a carbon dioxide recycling startup. She's created a converter that converts CO2 into clean energy and green plastics. At scale, when these are adopted by factories, this would end factory emissions in one swoop. She's figured out the science, and now she just has to figure out how to become an essential service with companies that are fine with throwing their CO2 away for free.  Etosha grew up in Texas, surrounded by refineries, and seeing the damage they caused on her local environment is what drives her. She's smart, motivated, and a total badass — when she was struggling to purchase the lab equipment she needed, she decided that rent was an unnecessary expense, and slept in her car for two months so she could equip her lab! Her dedication and tenacity – and that she's figured out how to halt emissions — blows me away.
What's the most exciting thing about what you do? Being a reporter means I have carte blanche to have all my questions answered, which is a huge privilege, and an amazing perk for someone who's continually curious. My work allows me to influence and educate people about the world, and to illuminate little known topics and scientific advances. Storytelling, whether in book or magazine form, is incredibly fulfilling, and I'm excited and honored that I get to wake up and do what I love 90% of the time (the remaining 10% is spent on administration and finances).
Do you have any role models that you look up to, both inside and outside of your field? I'm a huge fangirl of author and journalist, Mary Roach. She's written seven books, each one exploring a different area of science, in an incredibly humorous way. She's extremely deft at breaking down scientific arguments for a wider audience, and leaves no stone unturned. She's an active participant in the book, and describes her adventures; for her book on taste, she tried dog food! I also adore the work of Taylor Lorenz, an internet culture writer at The New York Times. She publishes deep dives about influence subcultures, marketing memes, and social media elitism, and I'm in awe of how she finds her stories.
Is there any advice you would give to current students or recent graduates interested in studying English or going into Journalism? Your time at university is going to feel action packed, with such a broad curriculum, mural activities, and all the culture and events of London, in general. It's important to enjoy that, but not to get so absorbed in the present that you forget about the big picture. Write for the student paper. Intern at newspapers and magazines. Talk to people in careers that you're interested in (many people are happy to share advice with students who are genuinely interested in their work). School wise, take the classes you're interested in, not the ones you *think* you should be interested in. It's so much easier to learn when you're excited about the topics you're studying. Don't be afraid to challenge yourself with the harder classes!
Journalism wise, there is no rulebook anymore. Today, professional journalism takes many, many formats; think video, memes, words, photographs, and data visualization, to name a few. It's good to be well versed in a couple of skills, to make yourself more valuable on the job circuit.
There are few "safe" jobs in the industry, with so many cutbacks, so it's also important to have a good grasp of finances, as the likelihood is there will be some freelancing in your future. Understanding how to pitch and how to sell is integral to getting your work read. I've freelanced for many outlets; The BBC, SKY News, The Wall Street Journal, Wired Magazine, The Washington Post, VICE, The Atlantic, and more, and having a good sense of storytelling — and selling — has helped my career.
This profile was conducted by Alumni Engagement Coordinator, Nathalie Grey. If you would like to get in touch with Zara or engage her in your work, please contact Nathalie at n.grey@qmul.ac.uk.
---
The Brilliant Minds Shaping the 21st Century
Take a look at what the future holds—and how women are making it better. In The Future of Science is Female, author and award-winning journalist Zara Stone shares the fascinating, complicated stories of how a diverse group of powerful women got started—from the perspective of those still working it out as they go along. Take 22-year old Dominique Barnes, a female hero of the oceans. She was worried about all the dolphins and whales killed during shrimp farming, so the marine biologist created a tasty, affordable plant-based shrimp alternative. And she's just one of the sheroes you will discover in The Future of Science is Female.